Group 4: Compact family
To get through to the quarter finals from this keenly contested sector, our class winner needs to be an all-round star.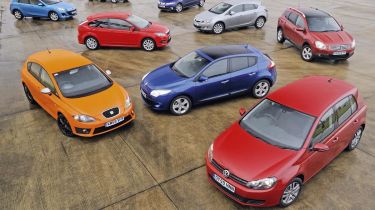 EntrantsWINNER: VW Golf (£14,850-£31,980) BEST HANDLING: Ford Focus (£17,870-£23,846) BEST SPACE: Skoda Octavia (£13,450-£22,555) Renault Mégane (£14,285-£23,116)SEAT Leon (£13,970-£20,740)Nissan Qashqai (£15,395-£25,745)Vauxhall Astra (£16,015-£24,210)Honda Civic (£15,426-£22,614)Mazda 3 (£13,930-£19,995)
Every World Cup has a group of death, full of leading contenders – and this is ours. Only one compact family car can go through to the next round, so some big names are about to take an early bath. But the model that tops this class has a good chance of reaching the latter stages. Which is it?
Practicality and space are top priorities for family buyers, and that sees the latest Mazda 3 drop out of contention. Its small boot simply isn't big enough in this company.
Price is also a prime concern, which means the expensive Ford Focus and Vauxhall Astra fall away.
And Renault's poor showing in our Driver Power satisfaction surveys counts against the Mégane.
So, which car will progress to the quarter finals? It's not the Honda Civic. Even though it's a fine choice, it's let down by its limited line-up and chassis that's tuned for driving fun. Although the SEAT Leon has a broad model range, its racy handling also comes at the expense of comfort.
Also falling by the wayside is the Nissan Qashqai. It's a groundbreaking design and comes in two and four-wheel drive – but we think the Skoda Octavia and VW Golf are better family cars.
The Octavia is big, comfortable and offers the same great engine range as its VW Group sister model. However, it doesn't have the Golf's image, dynamic polish or rock-solid residual values.
The VW is the most refined and desirable car, and gets through thanks to its array of overall talents. None of the group winners will want to draw this talented hatch in the next round.