Group 6: Compact SUVs
Practical, stylish and fun to drive, the latest small, road-biased 4x4s are ideal if you don't plan to venture far off the tarmac. But which will qualify?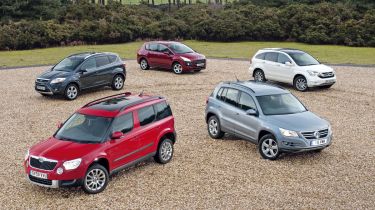 EntrantsWINNER: Skoda Yeti (£13,990-£22,635) BEST FOR IMAGE: VW Tiguan (£20,125-£27,900) BEST FOR HANDLING: Ford Kuga (£21,498-£28,134)Peugeot 3008 (£16,595-£22,495)Honda CR-V (£20,610-£29,135)
Reaching the finals of a World Cup is a big achievement in itself – and this sector proves why. The five cars here represent only a handful of the compact SUVs on sale.
And the fact that the likes of the Vauxhall Antara and Toyota RAV4 aren't even in our line-up goes to show the choice and variety in the small 4x4 market. While none of our finalists will disappoint family buyers, only one can reach the knock-out stages. And it isn't the Honda CR-V. Despite a recent Auto Express group test victory (Issue 1,099), it faced even more talented and affordable machines here.
The VW Tiguan is another former group test winner to fall short. We are big fans of the smart off-roader, but it doesn't have the appealing looks, interior space or price tag to match our winner. The Peugeot 3008 is keenly priced; if only it didn't have such unconventional styling. Dynamically, it can't match our compact SUV favourite, either.
When it comes to driving fun, the Ford Kuga takes some beating. As with the Tiguan, it's available with two and four-wheel drive. And the entertaining handling and sporty appearance make it a genuinely desirable choice. However, a string of price rises last year means the Ford is now an expensive option.
That leaves only one car: the brilliant Skoda Yeti. We were blown away by its robust looks, superb handling and classy cabin. Add competitive pricing, a choice of 2WD and 4WD models, plus the firm's famed reliability, and it's the unanimous choice of our judges.