Chrysler 300C Touring
We've figured out the secret of the huge Chrysler estate's appeal.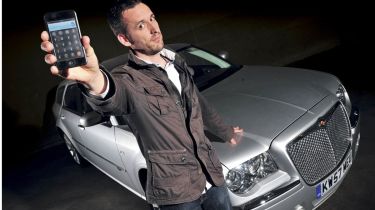 Find your Chrysler 300C
Offers from our trusted partners on this car and its predecessors...
Or are you looking to sell your car?
Advertisement
I was never any good at maths at school, but even I know the Chrysler 300C doesn't add up! In isolation, there's nothing to frighten the class leaders, yet live with the big estate day-to-day and you'll realise it's greater than the sum of its parts.
Admittedly its gigantic proportions, big wheels and lashings of chrome give greater road presence than a fleet of its European rivals, but there's more to our long-termer than a menacing stare. Take the boot. In an earlier report I noted that it's smaller than I anticipated, yet it's never been beaten. So far, it has swallowed suitcases, garden refuse, pushchairs, a new bed and an old dishwasher, all with room to spare. And thanks to its hard-wearing design, the load area still looks factory fresh. The cabin also impresses.
It can't match Europe's best models for quality, but provides plenty of kit. It's the same story from behind the wheel. Dynamically the 300C is some way behind the competition – and our car's huge SRT alloys don't do the low-speed ride any favours – but it never fails to score points with passengers. The relaxed blend of the CRD diesel engine and auto gearbox also encourages you to take it easy, so the handling deficiencies of the Chrysler never really matter.
More reviews
Car group tests
In-depth reviews
Long-term tests
Road tests
You can sense the huge body flex over uneven surfaces at low speeds and the car is so wide you won't be able to fit into tight spaces, but somehow you don't mind. From behind the wheel you can relax, enjoy the comfortable seats, pick your favourite song on the built-in hard drive and cruise gently to your destination – drawing admiring glances all the way.
When the need arises the 3.0-litre engine can pick up its heels with decent mid-range punch, although its thirst for diesel curbs your enthusiasm. Average fuel economy so far has been a mere 31mpg, yet considering the amount of time the car spends on central London streets we probably shouldn't be surprised.
Genuine problems have been few and far between, but we topped up the coolant level after noticing the temperature gauge rising and falling in stop-start traffic. The only other gripe concerns the model's size, because washing the huge body takes forever. You end up making frequent trips back to the kitchen to refill your bucket – just don't ask me to count how many I use!
Second Opinion
While Ross has learned to live with the 300C's girth, I am irritated by those swollen dimensions. In America, its size seems perfectly sensible. Tackling a London width restrictor, though, shows this is one big car. That wouldn't be a problem if better use was made of its cabin space. I like the narrow glass area, but it has a slightly cramped feel.
Chris Thorp Road test editor