Chrysler 300C vs Jaguar XF
Chrysler is targeting company buyers with its reborn 300C executive saloon. Is it a better choice than the Jaguar XF?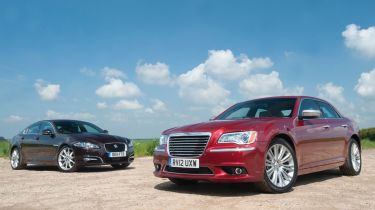 Buyers of large saloon cars aren't exactly spoiled for choice these days, with the latest incarnations of the Audi A6 and BMW 5 Series occupying the top rungs of company car wishlists.
So what if you want to take the road less travelled? The original Chrysler 300C carved out a niche for itself thanks mainly to its looks, personality and competitive price tag. But since the Fiat group took over Chrysler in 2011, the US brand has started exploring new classes with small hatchbacks like the Delta and Ypsilon.
The company hasn't forgotten its roots, though: there's now an all-new version of its traditional imposing four-door saloon. This new 300C promises greater luxury and higher quality along with more sophisticated handling.
To provide the ultimate test, we've lined it up against one of the most charismatic alternatives money can buy – the recently revised Jaguar XF 3.0-litre diesel.
Both models are bristling with aggression and character, plus they come equipped with powerful V6 engines and plenty of standard kit – but which offers the better overall executive car package?
Verdict
This class has undergone a major revolution during the two years that Chrysler has been away. Heavier CO2 taxation has made four-cylinder diesels the best sellers – so much so that powerful V6 models like these are increasingly rare. That's a shame, as both of these cars deliver surging performance and hushed refinement, which is perfectly suited to their luxurious image.
More reviews
Car group tests
In-depth reviews
Long-term tests
Road tests
The Chrysler is very different to the car it replaces, with a noticeably stiffer chassis and better cabin quality that almost brings it in line with the standards of its main rivals. However, despite improvements to the suspension and sound deadening, the car's engine and gearbox are well past their best – especially compared with their more modern equivalents in the hi-tech Jaguar. The 300C feels big and unwieldy on UK roads and the heavy steering makes it hard work at low speed. Anyone who buys one is guaranteed exclusivity, though, as Chrysler only plans to sell around 450 this year.
In the end, though, it was comfortably outclassed by the incredibly desirable XF, which looks and feels well worth the extra outlay. It matches the 300C for comfort before turning into an exhilarating sports saloon on more demanding roads. The Diesel S is the pick of the XF range and a worthy winner.
Winner: Jaguar XF ★★★★
This British bruiser feels back at the top of its game after its facelift, and only the hot XFR delivers the same combination of effortless performance and supple refinement as the Diesel S tested here. The classy and surprisingly practical interior proves that the XF has substance in spades to match its gorgeous styling. It remains a truly compelling alternative to more mainstream German rivals.
2nd: Chrysler 300C ★★★
We doubt anyone drawn to the Chrysler's unique personality will be disappointed at the wheel. The 300C is now a far more rounded performer than before – but still falls short of the toughest European standards. Keen pricing and luxury kit aren't enough to counter poor residuals and steep running costs.