Dacia sells 200,000th car in the UK
Private buyer demand pushes Dacia over the 200k mark in the UK in just eight years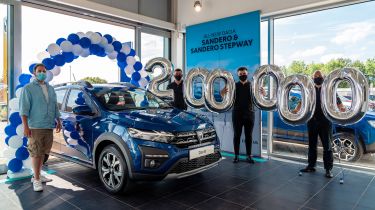 Budget brand Dacia has announced it has sold its 200,000th new car in the UK since its introduction to the British market in 2013.
The brand reports that around 89 per cent of its sales over the last year have been to private retail, with the Sandero Stepway its most popular model - around 60 per cent of all Sanderos sold are the SUV-inspired version of the cut-price supermini.
At UK market launch eight years ago, the brand's line-up consisted of basic versions of the second-generation Sandero and Duster SUV. 
Dacia's line-up has steadily evolved to incorporate more aspirational cars like the Stepway and high-equipment Laureate trim cars (now the most popular with buyers), while the latest Sandero moves onto the same platform as the current Clio. More new cars, such as the next-generation Lodgy and the Bigster mid-size SUV, are on the horizon. 
The brand has also gone fully electric - but not yet in Britain. The Spring Electric is Europe's cheapest EV, designed as a battery-powered city car based on the Renault Kwid, capable of 143 miles on a single charge and priced from the equivalent of £10,500, depending on incentives. 
Speaking with Auto Express last month, Dacia CEO Denis le Vot said that the company was still "actively considering" bringing its electric city car to the UK, with a right-hand-drive conversion. 
Click here to read more about the Dacia Spring Electric...