"Redesigning an icon is almost impossible but Fiat has a solution"
Fiat makes no bones about its reluctance to change the winning formula that is the 500. Graham Hope thinks it's a sensible strategy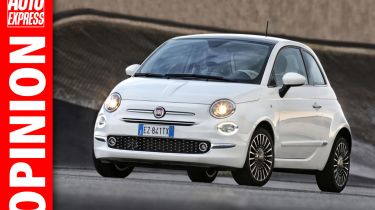 Redesigning an instantly recognisable, iconic car is one of the hardest jobs in the motor industry. Some would say it's impossible. But Fiat believes it has a solution, of sorts. Simply don't do it. And it's hard to argue with its logic. Nine years after it was launched, and with a bare minimum of design changes, the 500 continues to perform wonders in the sales charts.
In many markets it is matching what it did sales wise in 2007. In some it is actually exceeding them. No matter that there are now better options in terms of dynamics. Buyers can't get enough of that cheeky styling. Little wonder, then, that there was precious little talk of a replacement when I asked Fiat's global brand chief Olivier Francois what his plans were.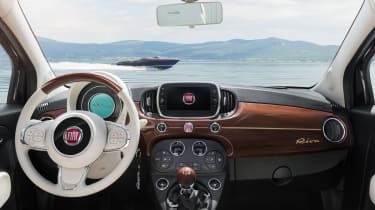 Francois told me: "There will be a new 500 when we need one, and when we are able to design one without abusing what is our icon. But it is a very heavy responsibility. It is not feasible or conceivable to totally change it."
Francois has a point. You only need to look at the Volkswagen Beetle, for example, which has lost a lot of its original lustre in its current incarnation, to see the pitfalls that lie in wait. "Design-wise it is super-challenging," he continued. "We are working on it but very cautiously."
Of course, there have been regular updates to the current car, and according to Francois it is now very different to the one that was first launched. He stressed: "We have changed 60 per cent of the car between 2007 and 2016. Aesthetically it looks a little better but it is very close, but a lot of the substance has evolved with one thing in mind – keeping it relevant."
• Fiat 500C vs MINI Cooper Convertible vs DS 3 Cabrio
And Francois' idea of relevance is very clear; under the skin it can change dramatically but the styling simply cannot and will not. He explained: "When you have a real icon, like the Porsche 911 or Vespa scooter, you are blessed to have such an object in your hands. The only thing you need to be obsessed with is keeping it relevant, because once an item is no longer relevant – like the London red phone box – it becomes a dead icon.
"All I need to do with the 500 is not grow it very much, be very careful with the styling and keep it loaded with CarPlay, Android Auto, TFT clusters, the right engine for the right moment." Further down the line more electrification seems likely too, with the 500e (below) already on sale in certain US states. "Absolutely," said Francois of the prospect.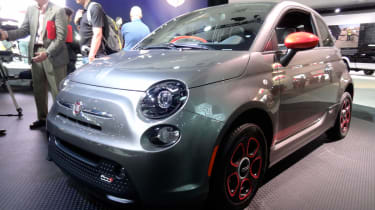 But the key message is clear; for now the 500 is going to march on with its cutesy retro looks, with a 10th anniversary of the 'new' model and 60th anniversary of the original in 2017 presenting greater opportunities for even higher sales - and no sign of an all-new model on the horizon.
Francois is unrepentant about the firm's strategy. He concluded: "We are lucky to have a perfect sized icon; history blessed us with an icon that is more relevant than ever because it is a city car and people are hungry for urban mobility solutions. Because it is our golden goose, we are very protective of it." It's a hugely sensible strategy that has served Fiat well for nearly a decade, and is likely to do so for some time yet.
Do you think Fiat should consider a more comprehensive redesign of the 500? Why not let us know in the comments below...