Fiat Panda Cross review
No other city car will take you as far off-road as the esoteric Fiat Panda Cross, but the regular 4x4 will be enough for most people
The Fiat Panda Cross is about as hardcore an off-roader as you can get this side of a Land Rover Defender. It takes the Panda 4x4 and adds more ride height, a hill descent mode and some new bumpers, plus new colours and a two-tone brown-and-silver dashboard. The overall effect is of a really likeable and versatile car, but one that's unlikely to become a volume seller.
The car comes in one specification only, but you can choose from two engines, a 0.9-litre two-cylinder petrol and a 1.3-litre MultiJet diesel, both of which are turbocharged. There is no automatic option – the diesel gets a five-speed manual and the petrol a six-speed manual.
Engines, performance and drive
The Panda Cross is as entertaining on the road as it is off it. The 875cc two-cylinder TwinAir engine in particular delivers a spirited drive, while both the chassis and drivetrain feel tough and robust enough to take on all terrains. And although the engine is noisy, it possesses character and a decent punch of torque that means it's lively through the gears.
However, the extra height means it suffers from more body roll than a standard Panda, particularly through tight corners. And the ride is less settled over bumps, but the difference is marginal and the benefit of the brilliant 4x4 system outweighs the quirks.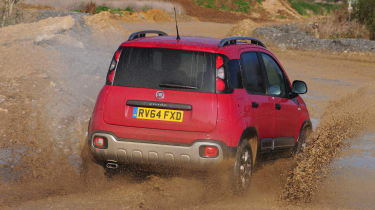 The Panda Cross is uncompromising in challenging situations – putting larger, more expensive off-roaders to shame with its go- anywhere ability. It's fitted with an easy-to-use Terrain Control system, which allows the driver to switch between three driving modes: Auto, Off-Road and hill descent control.
The Panda Cross has 161mm of ground clearance, as well as reasonable approach, rampover and depart angles for its size – 24, 21 and 24 degrees respectively.
Although its heart is in the muddy stuff, the Panda hasn't forgotten its city car roots. Compact dimensions, excellent visibility and light controls make it a breeze to guide down crowded town streets. The clever 'City' button adds more steering assistance, which makes squeezing in and out of tight spaces a doddle. And there's a useful Eco button that cuts engine torque in an effort to reduce fuel costs.
MPG, CO2 and Running Costs
The petrol TwinAir Panda Cross is good for a claimed 57.6mpg and 114g/km, though in our experience the TwinAir engine is one of the biggest culprits of overly optimistic economy claims.
Opt for the diesel and you score up to 60.1mpg and 125g/km. The diesel does cost more to buy though - £16,495 plays £15,495. On balance, the diesel is the one to go for – it's a smoother, more mature drive and more economical in practice. The diesel also wins outs on service intervals, as they come only every 25,000 miles, compared to 18,500-mile intervals for the TwinAir.
Interior, design and technology
The Fiat Panda Cross 4x4 looks the part of a true off-roader, but has the ability to back up its rugged image. There's no denying its chunky Tonka-toy styling and while it may be a bit brash for some, it leaves the Suzuki Swift 4x4 looking bland in comparison.
Taking its cues from Fiat's already tough- looking Panda 4x4, the Panda Cross gets a slightly higher ride, producing more ground clearance and better off-road articulation for the compact mud-plugger. Up front, plastic cladding protects the headlight and foglamp clusters from any glancing blows from rocks and tree branches.
The large front bumper incorporates a generous and funky skid plate, which has no fewer than 15 intakes in the 'squircle' shape – Panda's trademark motif – to protect the mechanicals when taking the Panda Cross over rough terrain.
As with any off-roader, the tyres are the main focus, and the Panda Cross is suitably shod with all-season mud and snow tyres as standard. Add in enhanced wheelarch extensions, standard silver roof rails and two brilliant red front tow hooks, and the Panda Cross is as hardcore as you can get.
Inside, the "squircle" theme continues throughout the matt-effect copper dash, while a smart contrasting silver finish for the instrument surrounds and centre console adds a further touch of flair. Comfortable seats get a techno look with side bolsters in a natural shade to match the door inserts and the Cross logo.
Practicality, comfort and boot space
For a little car, the Panda is surprisingly big on space. The 225-litre boot is a decent size and it's usable thanks to a low lip height and wide opening. It also gets a standard 40:60 split rear seat – although the bench doesn't fold completely flat.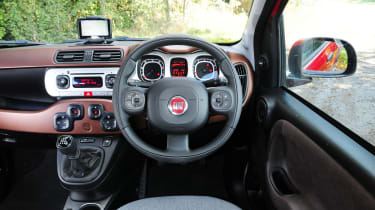 Rear seating is a bit tight for taller people, but up front both driver and passenger have plenty of room. The taller stance of the Panda Cross also gives plenty of headroom. There's an abundance of neat storage, too, plus plenty of labour saving touches, such as auto climate control.
Off-road peace of mind comes in the form of hill-descent control and a lockable all-wheel drive mode. If you need a supermini with 16 inches of wading depth - with the way British potholes are getting, that might be a fair few of us - look no further.
Euro NCAP has only crash tested the standard Panda, awarding it four stars, with testers marking it down for not having stability control as standard. However, since the assessment was carried out, Fiat has rolled out this valuable safety kit across the range.
Our Driver Power 2014 satisfaction survey suggests that Fiat has taken on board customer concerns, as its dealers moved up to 24th place from 28th the previous year. But there's still work to do. For instance, the regular Panda finished in 70th place which is still disappointing. Owners criticised its below average build quality and reliability record.