'It's Ford's turn to grab the headlines once again'
With the cars such as the Mustang Mach-E and Bronco, editor-in-chief Steve Fowler thinks Ford is on a roll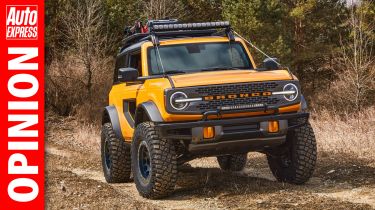 As with so many things in life, the car business is cyclical. Some car makers shine, then the limelight (and sales success) shifts onto someone else.
Ford is a case in point. Through the nineties and the start of the 2000s, every model in its line-up was a winner. Well, almost (Scorpio...). Then the company lost its way with product that, frankly, wasn't very Ford.
You might well blame the leadership of the time; the global One Ford plan never really brought us cars that shone in any market, let alone across the world.
Now, though, Ford is on a roll and – from my point of view – is one of the brands we should be getting most excited about in the coming years.
Cars like the Mustang Mach-E show careful thought about what the market wants, and it's the same with the fabulous new Bronco. It's not coming to the UK, but it's another clear sign that Ford has its mojo back.
Ford mainstays are also doing well, with the Focus recently beating the all-new Golf and SEAT Leon in an Auto Express group test. And the Fiesta? Well, if you want to have fun in a supermini, you know where to go. After a van? The Transit family is better than ever.
The new Puma and Kuga SUVs, with their mild and plug-in hybrid tech, have impressed us, and are going down well in the showrooms, too. Talking of which, Ford's position as market leader in the UK has always been down to the brilliantly run national sales company, which – again – knows what consumers want: great deals!
Perhaps most exciting of all is what Ford will do with Volkswagen's all-electric MEB platform, which it has signed a deal to use for a new small EV. While Ford is on the way up, Volkswagen seems to be heading in the other direction. But remember, everything is cyclical; getting to the top is easier than staying there.
Do you agree with Steve? Let us know your thoughts in the comments section...