Ford Vignale: The history behind Vignale, Ford's new luxury division
We chart Vignale's journey from post-war coachbuilder to Ford's luxury sub-brand
The Ford Mondeo Vignale has been around for a while now, and at the Geneva Motor Show Ford launched a whole range of Vignale models, including the Kuga, S-MAX and Edge. But what history lies behind the name?
The Vignale name may be new to modern buyers, but it has a long history that stretches back almost 70 years. Indeed, the Vignale badge started life in 1948 on hand-built specials from one of the first Italian coachbuilders to emerge after World War II.
• Ford launches Kuga, Edge and S-MAX Vignale at Geneva
The firm was founded by Alfredo Vignale, who'd worked as a panel beater in his family's garage before modifying a Fiat 500 into a convertible and winning early praise for his innovative design. It was promising enough, in fact, to earn Vignale consultancy work and allow him to start dealing with larger cars from Lancia and Ferrari.
By the early fifties, Vignale was producing bodies for Ferrari competition cars that would go on to win the famous Mille Miglia road race and the Carrera Panamericana. It was a key item on the brand's CV, and brought in enough custom for it to move to larger premises in Turin in the early sixties.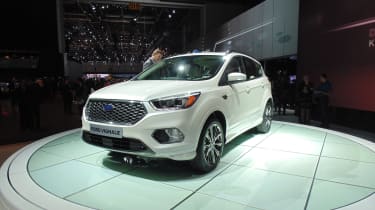 This period was really Vignale's purple patch. With renowned designer Giovanni Michelotti on board and fresh investment in mechanised production,the company made Fiat-based cars to earn its keep, along with consultancy 'design studies' for brands like Daihatsu and Opel. Manufacturing deals included contracts with Lancia, Maserati and British firm Jensen. There was even an ambitious plan by a Cypriot casino magnate to import right-hand-drive versions of Vignale's Fiats to the UK – although this proposal eroded almost as quickly as the cars' bodywork.
Back at base, meanwhile, it was becoming increasingly difficult for small coachbuilders to survive. Vignale sold his company to De Tomaso in 1969, opening his factory premises to build the Modena marque's Ford V8-engined supercar, the Pantera. Not that the founder got to see the production line back in action; he died behind the wheel of a Maserati a few days after completing the sale.
De Tomaso was itself in a relatively perilous financial state in the early seventies, too, as it turned out. So by 1972, it decided to offload Vignale to Ford, along with Ghia – another coachbuilder it had acquired. But while the Ghia badge would go on to adorn plenty of range-toppers in Ford's line-up over the years that followed, Vignale was largely ignored.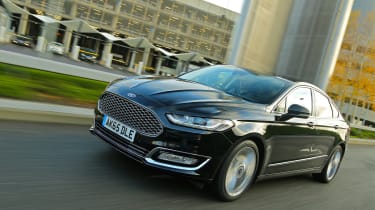 It re-emerged in 1993, when Ford-owned Aston Martin revealed the Lagonda Vignale concept at the Geneva Motor Show. Designed by Moray Callum, now Mazda design chief responsible for the new MX-5, the car was meant to display how Aston could breathe fresh life back into the Lagonda name. But only one production model was ever made, for the Sultan of Brunei.
More than a decade later, Ford finally placed the Vignale badge on one of its own cars for the first time: the Focus Vignale was a Paris Motor Show concept designed to preview the forthcoming Focus CC. Yet when the production model arrived, the Vignale name was nowhere to be seen.
It has taken a further 12 years for Vignale to properly re-emerge, lending a slice of Italian glamour – not to mention its history of bespoke vehicle creation– to Ford's premium sub-brand. Ford believes it is reacting to buyers increasing preference for top-end luxury in mainstream vehicles, and in a way, that's exactly how Vignale started out almost 70 years ago, by injecting style and flair on to a modest Fiat. Look below for our brief history of the Italian coachbuilder
1951 Ferrari 212 Export Coupe
Vignale built a variety of custom bodies for Ferrari. Subsequent mods were common; this car became a Barchetta six months after it was first made.
1957 Lancia Appia Convertible and Lusso
Classic Italian brand Lancia flirted extensively with coachbuilders in the fifties and sixties, and Vignale's work earned the firm the right to make drop-top and two-door coupé versions of the Lancia Appia. Nearly 2,000 examples were produced in total.
1959 Maserati 3500 GT
Giovanni Michelotti was one of the highest-regarded designers of his era, and perhaps the best example of his work with Vignale was the Maserati 3500 GT Convertible. The firm revealed it as a proposal at the 1959 Paris Motor Show, but it got the official green light and almost 250 were produced.
1966 Jensen Interceptor
Vignale missed out on the styling contract for the Jensen Interceptor, but got a contract to manufacture bodyshells for the early production versions of the British sports car. The deal didn't last very long, though, and Jensen soon took over full control of the process.
1967 Vignale Gamine
Rear-engined two-seat convertible was based on the humble Fiat 850. Around 300 were made, along with a handful of hard-top versions.
1993 Aston Martin Lagonda Vignale
This 1993 saloon concept was based on a venerable Lincoln Town Car, although it added an astonishing level of opulence. A handful of promotional vehicles were produced, but Aston only sold one production example – albeit for an eye-watering £1.3million.
2004 Focus CC Concept
The Vignale badge first appeared on a Ford over a decade ago at the 2004 Paris Motor Show. It was seen on a concept designed to preview the forthcoming Coupé Cabriolet version of the second-generation Focus, yet while the car made it into production, the Vignale badge didn't.
2015 Ford Mondeo Vignale
Ford showcased the Mondeo Vignale as a concept in 2013 at the Frankfurt Motor Show, and the brand took another 18 months to finalise how it would transfer the luxury saloon into production. The Mondeo finally reached showrooms in spring 2015 in four-door (below) and estate guises.
Do you think the Vignale name has what it takes to become a renowned luxury brand? Let us know in the comments below...