Hyundai i10 SE: long-term test review
Final report: Airport runs, urban drives; our city car's done it all
We're really sorry to see the i10 go. It's one of the cheapest cars on our fleet, but also one of the best, mixing neat proportions for urban driving with decent refinement for motorway trips. This city runabout is up there with the class-leading Skoda Citigo, and takes the pain out of downsizing.
Mileage: 8,223Fuel economy: 42.8mpg
Our trusty little Hyundai i10 has been in it for the long haul. After 10 months on the Auto Express fleet, the city runabout will soon be leaving us. During its time in our hands, it's proven cheaper to use than public transport and is even capable of shaming its bigger brother, the i20, with its sheer breadth of abilities. 
As well as seeing plenty of action in central London, the i10 has been a frequent visitor to the long stay car park at Heathrow Airport – every week brings an international new car launch on Britain's biggest-selling weekly car magazine. And judging by the number of parking receipts it's racked up, whether in my hands or with colleagues, the Hyundai has been the perfect tool for the job.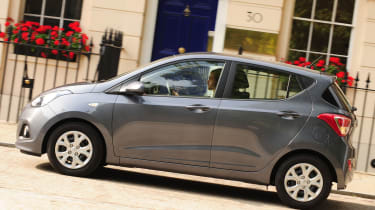 Its nippy 1.0-litre three-cylinder engine provides enough punch to zip through the capital's congested streets, while the grown-up chassis and well engineered powertrain are a perfect match for the bustling commuter arteries leading in and out of town. The dinky proportions also mean the i10's a doddle to squeeze into tight spaces, which is handy when you're in the battleground of an airport car park. 
But the i10 is more than happy to operate well out of its comfort zone, too. A few months back, deputy road test editor Dean Gibson drove it all the way to North Wales to meet up with Hyundai's World Rally Championship team, and hustled it down part of the Wales Rally GB's Llyn Brenig stage. It didn't put a foot wrong on the 600-mile round trip and even took the rough of the stage in its stride.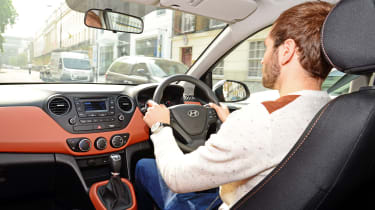 That's what makes the i10 such an impressive little car. It can deal with anything you throw at it with minimal fuss, and you couldn't really ask any more from a car that starts at only £8,345 – it's little wonder our sister title CarBuyer.co.uk crowned it Car of the Year in 2014. 
Best of all, despite its size, the i10 is a genuine five-seater. Okay, we'll admit you probably wouldn't want to spend too long three abreast in the rear, but it's something none of the i10's rivals is capable of. The Volkswagen up!, Toyota Aygo and Renault Twingo, as well as their assorted sister models, only provide seating for two in the back, despite their more premium badges and steeper price tags.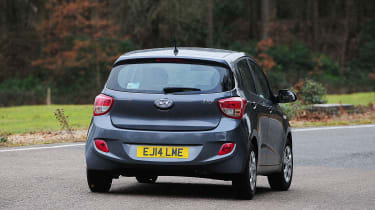 And over the 8,000 miles we've put on the clock, not once has the Hyundai's average economy dipped below 42mpg, so it's as cheap to run as it is to buy. We're going to miss the i10's wide range of talents, and if you're in the market for a new city car, it should definitely be on your shortlist.
Hyundai i10: fourth report
Sibling rivalry is put to the test in battle of the hatchbacks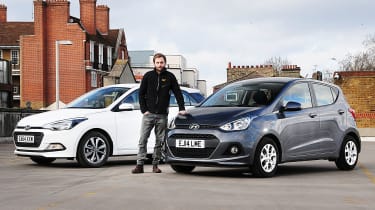 Mileage: 5,670Fuel economy: 43.1mpg
During our time with the dinky Hyundai i10, there's been very little to give us a headache, as the city car has impressed with its big car feel and superb value for money. 
It even dispatches motorway marathons with little fuss, and for a car of this size that's not something you'd expect it to have in its armoury. Given this list of talents, could it be a better bet than its i20 bigger brother? We were keen to find out, so brought the pair together for a unique comparison.
Big brothers specialise in humiliation, embarrassment and exploiting weaknesses for all to see, so would it be an awkward encounter for the i10?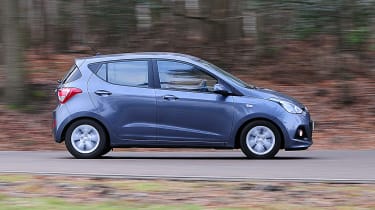 Obviously, there are plenty of similarities. Both five-doors are genuine five-seaters, with strong interior build quality and lots of standard equipment. 
The i20 has a more premium image, helped by the sleeker roofline, LED daytime running lights and floating C-pillars, but this is where its dominance comes to an end. And it's how the two cars drive which is the biggest difference.
Under the bonnet of this particular i20 sits a rather uninspiring 74bhp 1.2-litre four-cylinder petrol engine. Whereas rivals are all bringing turbocharged three-cylinders to the party, Hyundai doesn't yet offer one. It's a real missed opportunity.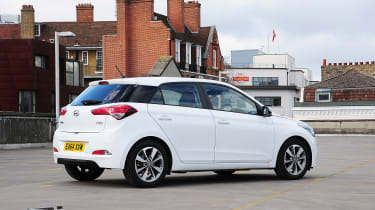 The i20 needs to be revved to make the most of the power on offer, but that means you'll struggle to match the claimed 58.9mpg it's capable of. 
This isn't the case with the i10, however. It uses a 1.0-litre naturally aspirated three-cylinder engine, which suits the car's character perfectly. It's an eager, sprightly engine and sounds good, too. 
After nearly 6,000 miles in and around central London, we've also averaged a healthy 43.1mpg. In previous tests with the i20, we've rarely got above 38mpg.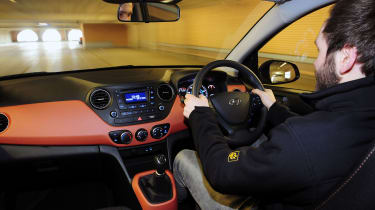 The i10 has a far wider range of abilities than its bigger brother, too. On the move it feels more compliant and forgiving around town, whereas the i20 tends to fidget over rougher surfaces. 
Load both cars up with passengers and luggage, and although the i20 will swallow more, the i10 does a far better job of managing the extra weight and keeping those inside more comfortable.
My verdict? The i10 is definitely a wiser choice – this is one instance where bigger doesn't necessarily mean better.
Hyundai i10: third report
City car holds its own on long journey to meet rally car sibling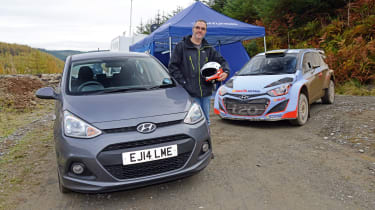 Mileage: 5,289Real-world fuel economy: 47.9mpg
The Hyundai i10 has had a pretty easy life so far on our fleet. Week in, week out, it's fitted the bill perfectly as a city runabout, thanks to its compact dimensions, nippy handling and eager 1.0-litre engine. However, an invitation from Hyundai to join its World Rally Championship team ahead of last month's Wales Rally GB was the perfect opportunity for our i10 to stretch its legs and head for the valleys.
And so, early on a Wednesday morning, I headed west in the i10, bound for Hyundai's pre-event test venue. While other city cars would have been well out of their depth with motorway driving, the little Hyundai proved more than capable of cruising at 70mph.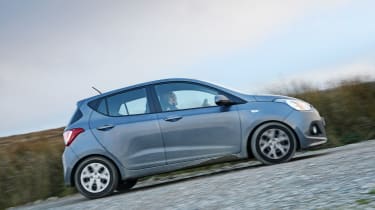 The 1.0-litre three-cylinder engine thrummed away merrily as I passed trucks and tried to stay away from the outside lane. It's not that the i10 struggles with overtaking, it's just that its diminutive size means other road users would think nothing of tailgating until I was able to pull back over.
Unfortunately, a two-hour hold-up on the M6 in Birmingham meant I was running behind schedule. But again, the i10 proved a comfortable place to be, thanks to the well padded seats, and the standard iPod connection kept me entertained. When I finally crossed the border into Wales, the twisting roads and spectacular scenery made up for the delays, although the i10's lack of power meant spending plenty of time stuck behind buses and lorries.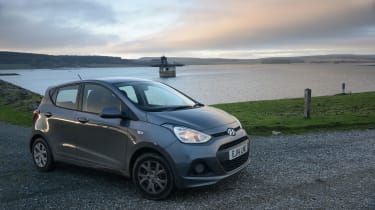 Eventually we met up with the i20 WRC team testing near Machynlleth for our shoot, where some of the team were keen to check out the city car. While its performance is nowhere near the rally car's, they were impressed by the interior and orange dashboard trim.
After the shoot, I headed north to drive the i10 on the final Wales Rally GB stage at Llyn Brenig, where the little Hyundai impressed on gravel roads, and proved you don't need a big SUV in the rough.
With a layer of dirt covering every panel, I pointed the i10 back east for the return journey. After 600 miles, I was home – tired, but not exhausted, and extremely impressed by the Hyundai's ability on a wide variety of roads.
Hyundai i10: second report
Cheap-to-run city car is a fine alternative to public transport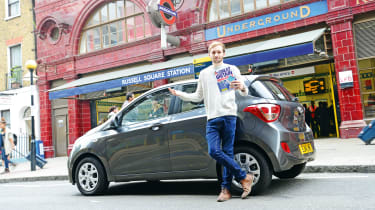 Mileage: 2,750Real-world fuel economy: 42.5mpg
Even to the wealthiest of those among us, the cost of getting around is unavoidable. There are cheap ways of doing it, of course, and, if you have the budget, more elaborate ways, too. However, during the last five weeks I've spent with the Hyundai i10, one thing has stood out – just how cheap this car is to keep on the road. 
With the Auto Express office based in central London and my home south of the Thames, the i10's stomping ground is the capital, with the city car rarely leaving the confines of the M25.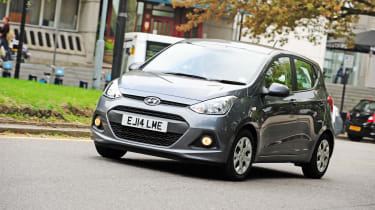 Hyundai is currently offering the entry-level S model for £99 per month (it's £109 for our SE model). Add in monthly outgoings such as the cost of insurance (£26) and fuel (£75), and a grand total of £210 a month seems outstanding value  when you consider it would cost £312 per month for me to use public transport. Okay, London residents will have to contend with the £11.50 daily congestion charge, but for owners living outside the capital, motoring doesn't get much cheaper.  
The i10 is also a popular car among the staff at Auto Express. Often, I've returned from a new car launch or event to find the keys in the hands of someone else. It's clear to see why, as the i10 goes above and beyond what it's designed to do.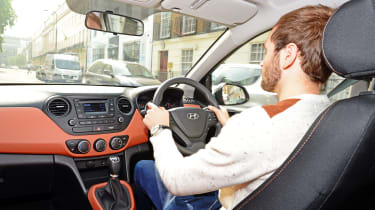 It's just about big enough for five adults, it can tackle a 200-mile round trip without a sweat and, despite residing in the urban jungle, economy has never dipped below 42mpg. 
Okay, that's some way off the claimed 60.1mpg figure, while another small criticism I have is that the i10 isn't as much fun to drive as a Skoda Citigo. But it does a better job of delivering big-car comfort and feel.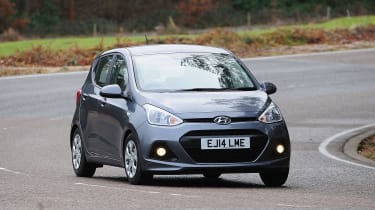 What's more impressive is that it does all of this for less than £10,000. Plus, there's been a big step up in quality over the previous model. Obviously, it's no Mercedes S-Class, but robust materials and solid build quality make you question how manufacturers with cars in the class above can't do as good a job as Hyundai. 
As for reliability, the i10 has been faultless. There isn't a squeak, rattle or missing wheel trim to report, and I'm hoping this continues over the next few months. That's if I can get my hands on the keys, of course.
Hyundai i10: first report
We're delighted to pick up the keys to award-winning Hyundai i10 city car in SE trim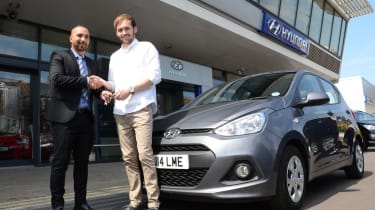 Mileage: 1,832Real-world mpg: 43.0mpg
It's not every day we get to welcome an award winner to the Auto Express car park, but this week we've done exactly that.
The Hyundai i10 was crowned 2014 Car of the Year by our sister site Carbuyer.co.uk, and now it's time to see if it can cut it as a hard-working addition to our fleet.
Over the next six months, the i10 will be subjected to the most thorough of tests in congested central London.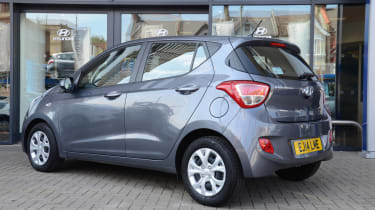 It's the perfect environment for a car which has won plaudits for a grown-up driving experience that helps it deal with the rough and tumble of urban life.
Better still, Hyundai has gone more upmarket with its city car, improving the quality of the materials and giving it a handsome new look that's a world away from its upright and restrained predecessor. However, key to the i10's appeal has always been value for money, and Hyundai has stuck to this ethos with the second generation. Our car comes in mid-range SE spec, while we've gone with the smaller engine that's offered, a 65bhp 1.0-litre three-cylinder petrol.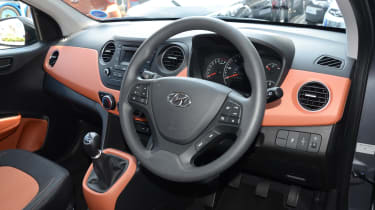 This model comes in at £9,610, but there's plenty of equipment fitted as standard. All-round electric windows, remote central locking, heated electric door mirrors, USB connectivity and cruise control with a speed limiter are all included.
Sat-nav isn't on the options list for the i10, but when sales executive Shan Islam of Hyundai North London handed us the keys to our car, he informed us that if we wanted it, we could add it as a dealer-fit option for a reasonable £700.
The amount of standard kit and the quality of the fit and finish are excellent considering its price, giving the i10 a big advantage in the increasingly competitive city car class.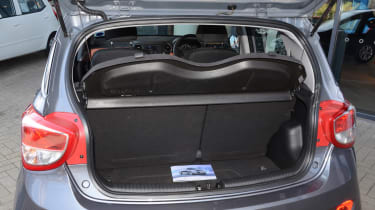 Another strong point for the little Hyundai is its practicality. Behind the rear seats is the largest boot in the city car class, at 252 litres, while one of its trump cards is that it offers seating for five passengers. For a car of such small proportions, being able to fit three adults in the back is an impressive feat.
Not only is the i10 cheap to buy, we've already seen how inexpensive it is to run. Admittedly, emissions of 108g/km aren't as low as in some of its rivals, but £20 annual road tax is hardly going to break the bank. Add to that claimed economy of 60.1mpg from the 1.0-litre engine and a group one insurance rating, and you won't need deep pockets to keep it on the road.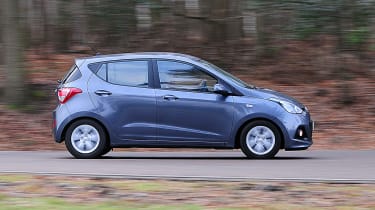 I'm particularly looking forward to seeing if I can get anywhere close to that fuel economy figure in regular day-to-day use. An early return of 43mpg is a reasonably encouraging start.
Since I've been handed the keys, the i10's composure and big-car feel on the road have been immediately obvious. Even on the heavily rutted roads of London, the Hyundai shakes off bumps like a car from the class above.
So far, so good then, but there's more in store for the i10. In the coming months I'll be keen to see how the little Hyundai copes with longer journeys, and even high-speed motorway trips.
Insurance quote (below) provided by AA (0800 107 0680) for a 42-year-old living in Banbury, Oxon, with three points.