Hyundai Veloster Turbo vs rivals
The new Hyundai Veloster Turbo faces its coupe and hot hatch rivals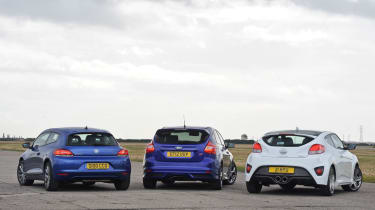 The quirky Hyundai Veloster has been a surprise hit. When we tested it in January, we pitted it against a stylish coupe and a practical five-door hatch. It won each encounter by managing to offer the best of both worlds at a very competitive price.
Now a muscular turbocharged version of the Veloster has arrived to take on a new set of rivals – so can it repeat the trick? Well, one obstacle in the way of the Hyundai's continued success is that boosting its performance has pushed the price up by almost £4,000, putting it in the firing line of some talented competitors.
To test its credentials as a desirable coupe, we've lined up the entry-level VW Scirocco which, even after four years on sale, still looks the part inside and out. It can't match the Veloster Turbo's power, but has strong residuals and a great image.
And to help examine whether the newcomer can now cut it as a practical hot hatch, we've got the current class benchmark: the Ford Focus ST.
Will the Hyundai have enough all-round talent to beat both the VW and Ford? Read on to find out...
Verdict
Hyundai should be commended for doing something genuinely different with the Veloster, and in theory this hotter Turbo model should appeal to more buyers than the standard car.
But one of the things that set that model apart was its competitive pricing, and against Volkswagen and Ford this new model carries a premium that's hard to swallow. Those looking for an upmarket coupe will find the Scirocco tough to resist thanks to its looks and interior quality, while the Focus ST blew the Veloster away in terms of straight-line performance and practicality.
The Hyundai's still worth a look, though. It's a well rounded compromise between a coupe and hatch, neatly bridging the gap between the two.
Hyundai Veloster Turbo vs Volkswagen Scirocco
Winner Volkswagen Scirocco ★★★★Desirability is everything to a coupe buyer, and, in this respect, the Scirocco scores strongly. Its two-door layout demands more compromises than the Veloster, but the grown-up dynamics and classy detailing give it the edge in this test.
2nd Hyundai Veloster ★★★★Some of the Turbo model's cosmetic touches are overdone, but this is the best Veloster to drive. It's also well equipped and has a great warranty. Yet it can't match the Scirocco's appeal and quality.
Hyundai Veloster Turbo vs Ford Focus ST
Winner Ford Focus ST ★★★★★Raucous performance and five-door practicality are the essence of any great hot hatch, and none delivers this combination better than the latest Focus ST. The ST-1 model offers unrivalled performance per pound.
2nd Hyundai Veloster ★★★★While the Veloster is surprisingly fun to drive, there's no escaping its shortfalls in performance and handling here. It has the edge when it comes to style and kit, but the Ford is simply more fun.