Jaguar Land Rover confirms three debuts for Pebble Beach
Reborn Lightweight E-Types, ultimate Range Rover Sport and US-spec F-Type Project 7 all bound for Pebble Beach Concours d'Elegance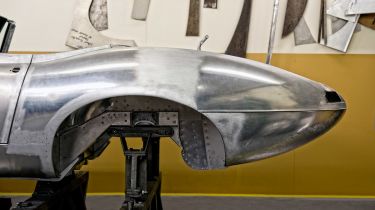 Jaguar Land Rover is attempting to steal the show at this year's Pebble Beach Concours d'Elegance by revealing three new high-performance models, including the 542bhp Range Rover Sport SVR which became an unlikely Nurburgring lap record holder earlier this week.
Making their global debut at the Californian high-end show are the first examples of Jaguar's Lightweight E-Type recreations. Six new all-aluminium E-Types are being built to complete the original intended production run of 18 cars from 1963. Despite commanding around £500,000 apiece, Jaguar insiders report that demand from wealthy collectors has outstripped supply.
Jaguar F-Type Project 7: US spec version
Meanwhile, Jaguar will also show off the US-spec version of its most bang-up-to-date sports car: the F-Type Project 7. Inspired by the D-Type Le Mans racer of the 1950s, the open-top roadster uses an uprated version of the F-Type R Coupe's 5.0-litre supercharged V8 engine, to deliver 567bhp and 680Nm.
Shedding 80kg versus a regular F-Type V8, the Project 7 can, Jaguar claims, hit 62mph in 3.8 seconds and 186mph all out. Only 250 will ever exist worldwide, and expect a few more deposits to have been placed by the end of the Pebble Beach weekend, even at £135,000 a pop.
Range Rover Sport SVR
Alongside the Project 7 will be Land Rover's fastest-ever road car, which uses the same basic engine as the Project 7 F-Type, not to mention the ballistic XFR-S super-saloon. The Range Rover Sport SVR has reportedly lapped the Nurburgring in eight minutes 14 seconds, which Land Rover claims is a world record for an SUV model. The car is expected to cost around £100,000.
The new halo Jaguar and Land Rover cars are the work of JLR's Special Operations branch. The Project 7 and Range Rover Sport SVR are both the work of Jaguar's burgeoning performance arm, Special Vehicle Operations (SVO), while the rebooted E-Types are the first of several recreations from the Special Operations Heritage division.
These in-house skunkworks will be creating high-performance versions of a variety of Jaguar and Land Rover models in the future, as well as promoting the brand's heritage. To that end, SVO recently purchased a collection of 542 classic cars – containing over 100 Jaguars – for use in international launches and customer driving days.