Jaguar Project 7 2014 ride review
We take a spin in the most powerful road-going Jaguar ever - the stunning 567bhp, D-Type-inspired Project 7
The Project 7 is an angry-sounding, drop-dead gorgeous assault on the senses. Only 250 examples will ever be built, but as the first real showcase for Jaguar's new Special Vehicle Operations division, the Project Seven is a worthy D-type tribute, and appetiser for the future of Coventry's big cat.
The three-time Le Mans-winning D-Type racer was the inspiration behind the new Jaguar Project 7, so where better to get our first dynamic experience of the 567bhp F-Type-based speedster. Ahead of the Le Mans classic endurance race, I'm about to drop into the passenger seat for a ride in Jaguar's most powerful road car ever. Approaching the Project 7, the F-Type's stocky proportions are familiar, but there's real grace added by that sloping rear 'fin' behind the driver's seat and the chopped windscreen. Only the fixed carbon rear spoiler and enlarged front air intakes hint at the swollen power output from its supercharged 5.0-litre V8.
• Jaguar Project 7 at Goodwood 2014  
Our car sparkles in classic British Racing Green, but there's a modern menace too, with forged 20-inch alloys, ceramic brakes and enormous yellow monobloc calipers. Capable of 0-62mph in 3.8 seconds, 186mph flat out and weighing 80kg less than an F-type V8 S roadster, the Project 7 is far from a cynical cash-in on seven Le Mans wins. Even at £135,000 a pop.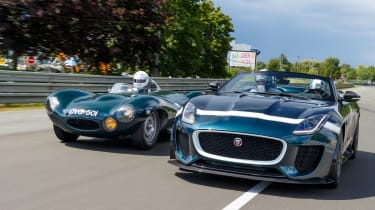 Tugging the flush-fit door handle and dropping into the quilted leather bucket seat is slightly more underwhelming, because from here the Project 7 just feels like a normal F-Type. The header rail is closer to your eyeline, and there's an plaque signed by Ian Callum down to my left. Mostly, it's reassuring familiar – even the V8 keeps its fruity burble at idle. Out on the Bugatti circuit, it's difficult to ascertain how much stiffer the retuned dampers have changed the car's ride – but such a small amount of body roll for what's still a 1585kg machine is impressive. Our car's optional Continental Force Contact Tyres generate huge grip, and though we're nowhere near close to generating the claimed 177 per cent increase in downforce at top speed versus a regular F-Type V8 S roadster, the sensation of being squeezed into the depths of the buckets seats is hilarious as we power through along the legendary course. Even as we explore the full throttle travel, there's no chassis creak, nor an undue blustering of wind inside the cabin. This is a well-sorted car. Of course it's fast, but the Project 7 doesn't feel like a car that needs to prove itself with numbers. It's the first Jaguar in two generations to truly break free of the 'wannabe Porsche-beater' schtick. It sounds savage yet cultured, and draws gazes around Le Mans in a way that should make its illustrious ancestor proud.