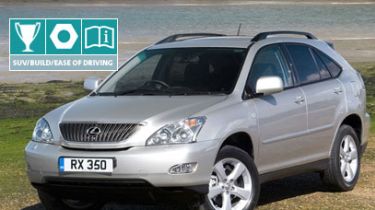 Overall Average Rating - 90.67%Position in the Top 100 cars - 2nd
WINNER OF CATEGORY - Build Quality
It's the first year Lexus's 4x4 has been included in the Driver Power top 100, and it's made a big impression. As the luxury arm of Toyota, Lexus was set up to showcase just how good premium Japanese models could be. According to the those who drive them every day, Lexus cars are the best built in the UK, taking first and second places in this chart. RX owners simply can't fault the precision with which panels and switchgear are assembled.
WINNER OF CATEGORY - Ease of driving
Hot on the heels of its win for build quality comes another first place for the RX. With good visibility, a high driving position, light steering and a slick auto box, the Japanese model is a delight. The hybrid RX400h is even more stress-free in traffic, doing away with all engine noise at low speeds, as it runs on an electric motor. What's more, the sound insulation is superb, minimising exterior distractions. Cars don't get any easier to drive than this.
WINNER OF CLASS - Off-road/SUV
It's all change in the SUV class as, in the face of stiff new competition, BMW's X5 has surrendered its crown and tumbled down to fourth place for 2007. That's due in part to your improving reviews for Toyota's RAV4, but two newcomers to the Driver Power top 100 have also done their bit to knock the BMW off the top spot. Heading the class now is Lexus's RX. As well as being available with a choice of V6 petrol or hybrid power- trains, the luxury SUV leads the field due to its amazing breadth of ability. You tell us there are few things about the Japanese model you would change. Toyota's RAV4 continues to impress, while you are also keen on Land Rover's latest Discovery, which has proven itself to be a fine family 4x4. A strong overall average is tempered only by the big off-roader's steep running costs. Fifth position goes to the impressive Nissan X-Trail. A replacement model is due to be launched later on this year, which will be doing well to match the sales success of its predecessor.
Ratings
Position in the Top 100 carsReliability: 4thBuild Quality: 1stRunning Costs: 90thPerformance: 23rdBraking: 19thRide Quality: 4thHandling: 56thPracticality: 12thComfort: 2ndEase of Driving: 1st
Your Quotes
"Comfortable, powerful, very well built, no congestion charge, just what I need."
Mr RichardShave - Dorchester
"It is the most comfortable car I have owned. It is reliable quiet and practical."
Mr Martin Abbott - Flintshire
"Excellent 4x4 and smart enough for social use."
Mr Keith Mansford - York
"My first Lexus after BMWs and Mercs. Great family car, loads of space and very comfortable. Has had broken hi-fi and a major brake recall so not perfect."
Mr Andy Tait - Lymington
"Reliable, comfortable 4x4 (sports utility vehicle) that's not oversized, yet has plenty of interior space. A smooth 3-litre engine that averages close on 25mpg. Modern looking yet not as ostentatious as a X5, Audi,VW or Porsche. Great exterior styling, fabulous quality interior with driver feel good factor. After sales service second to none. "
Mr Gregory Peck - Altrincham
Manufacturer Verdict (Position - 1st)
Driver Power is now in its sixth year, and amazingly, Lexus has been the top manufacturer in every single survey. That''s an incredible achievement, and one that no other car maker is ever likely to match. In this year''s poll, you have voted the firm''s line-up into the top spot in the ease of driving and build quality ranks. Needless to say, Lexus is hot favourite to retain its position in 2008.