'I'm sure Colin Chapman would be very proud of the Lotus Eletre'
Although the new Eletre does have a big battery sitting underneath, editor-in-chief Steve Fowler thinks it's still very much in the spirit of Lotus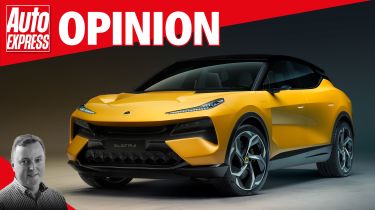 The new Lotus Eletre is probably the most exciting and controversial new car ever launched by the British brand. A large SUV that's heavy, expensive, can drive itself and is built in China, not Norfolk – what would Lotus founder Colin Chapman think about it?
In many ways it's an inevitable evolution – as so many other car makers have found. This week also sees the first official pictures of the new Ferrari Purosangue, the Italian brand's first SUV (although Ferrari calls it a Ferrari Utility Vehicle). What would Enzo Ferrari make of that?
From an economic point of view, Lotus and Ferrari SUVs make complete sense; look at the success – and cash windfall – the Rolls-Royce Cullinan, Bentley Bentayga and Lamborghini Urus have brought their makers. And we all know that Porsche would struggle to exist today if it wasn't for the Cayennes and Macans it sells.
The chances are, those great company founders would be hugely proud of the achievements of the people running their businesses today. We've yet to hear more on the Ferrari, but having spoken to the team behind the Eletre, many of Colin Chapman's guiding principles have been applied to the car, even if it does have a big, heavy battery sitting underneath.
We're often treated to incredibly early access to the cars that you'll be dreaming about or buying in the years to come. And sometimes, when a cover is pulled off, what we see takes our breath away – for all the wrong reasons. I hope I've got a good poker face for those occasions.
But when I first clapped eyes on the Eletre I genuinely got a tear in my eye – not least as a fan and former owner of a Lotus. It really is that good – it's very much in the spirit of Lotus, it looks like a Lotus and it's seriously clever.
We've said before what good custodians Geely, Lotus's Chinese owners, are. If the Eletre (and the new Emira) are indications of Lotus's future, then I'm sure Colin Chapman would be very proud indeed.
Click here for our list of the fastest SUVs on sale right now...