Mazda 3 Fastback 2014 review
Attractive four-door Mazda 3 Fastback is a surprise sales hit
The Japanese brand was only expecting 15 per cent of buyers to go for the Mazda 3 Fastback, but nearly a quarter have chosen it so far. This flagship auto version isn't necessarily the pick of the range – it's pricey and the gearbox can hamper performance. But with a comfortable ride and involving handling, we can see the appeal, especially as it costs the same as the hatch.
This is the Mazda 3 Fastback - a saloon version of the brand's small family car. Across the globe you'll find saloon versions of the Ford Focus and Opel Astra, but these compact saloons don't tend to make it to the UK. The decision to launch the Fastback here looks like it's paid off, with 23 per cent of buyers already opting for it.
The reason? Well, the Fastback is stylish, with a bigger boot (the 419-litre space is 55 litres up on the hatch) and costs exactly the same as the more traditional 3. It's a larger car but also more aerodynamic than the five-door, so it emits 1g/km less CO2 as well.
Not all of the engines available in the hatch are available here – there's no 1.5-litre petrol, for example. You can, however, get a 2.2-litre diesel or the 2.0-litre petrol driven here, which is also hooked up to a six-speed auto.
It's a solid combination, with the well sorted gearbox software ensuring you never feel like you're in the wrong ratio. And paddles behind the steering wheel let you take control anyway.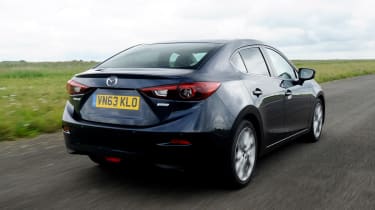 The engine is quiet, plus powerful enough for 0-62mph in 10.3 seconds – although the manual car takes just 8.8 seconds. What's missing is the mid-range shove we've become accustomed to from turbocharged engines like Volkswagen's TSI or Ford's EcoBoost.
Mazda's clearly put a lot of work into the Fastback's chassis set-up – not only does it flow nicely over cracked, bumpy roads, it's also really sharp in bends. Not many cars in this class are genuinely fun to drive, but the 3 Fastback has the measure of the VW Jetta. Mazda often talks about injecting its cars with some of the handling magic from the MX-5, and it's done a good job with the 3.
Cabin quality is impressive, too, plus our flagship Sport Nav has sat-nav, keyless go, air-con and electric windows. If only the infotainment was as intuitive as the latest VW touchscreen system.
At £21,095, the 3 is pricey – lower-spec cars look better value – and high-mile drivers should buy the diesel. But we can see why the Fastback is proving more popular than Mazda predicted.