New Mazda 6 vs rivals
Does the Mazda 6 deliver more than just stunning looks? We pit it against its Skoda and VW rivals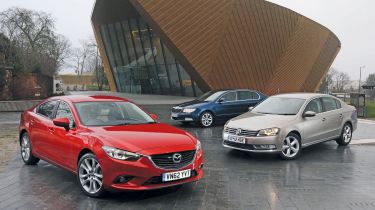 The family car market isn't what it was. Sales are being taken by everything from efficient compact execs to space-friendly MPVs. Brands need to make their cars stand out – and Mazda has done just that with its dramatic new 6.
It ditches the previous model's hatch body in favour of a sharply styled saloon shape. But that's not the only string to the Mazda 6's bow. The manufacturer is set to make its entire range as sporty as its MX-5 two-seater – as the sharp CX-5 SUV has already shown.
The 6 has always followed this ethos, but this latest version promises to be the sportiest yet. Plus, it mixes performance with efficiency, thanks to its SkyActiv engine range. Here we try the flagship 2.2D Sport in its most powerful guise.
We've lined up two tough rivals for the 6's first test. The VW Passat Sport isn't as powerful, but has a high-quality cabin and a few racy touches. Can it back up its Sport badge with an involving drive?
Completing our line-up is our favourite family car: the Skoda Superb. It shares the Passat's engine, and has a big cabin and is relaxing to drive, but foregoes any sporting pretensions to focus on value in SE Plus trim.
Can the 6 make an impact against these cars and offer driving fun for the family?
Verdict
If you're in the market for a stylish saloon with a sporty edge, then the Mazda 6 is the one for you. The catwalk looks are like nothing else in the class, but what's so special about this car is how it makes you feel behind the wheel.
It's fast, responsive and agile, yet none of this comes at the expense of running costs. Although fuel economy is a little disappointing, low CO2 emissions mean the tax bills are attractive and you get a lot of goodies included in the price.
The Volkswagen Passat takes second place, but only just. It's sportier to drive than the Skoda Superb – although is nowhere near as entertaining as the 6 – while the spartan kit list and poorer emissions peg it back.
In fairness, the Superb doesn't have any sporting pretensions and it's still a practical family car. But it needs a cleaner engine if it's to keep pace with the new class front-runners.