Mazda CX-30 vs Skoda Karoq
The Mazda CX-30 fills a gap in the brand's SUV line-up. We see if it hits the compact SUV jackpot against the Skoda Karoq
The mid-size SUV sector is very popular in the UK, because these models provide the style of larger SUVs and almost as much practicality with the lower running costs and smaller size of family hatchbacks. However, Mazda has been missing from this segment; the CX-3 rivals smaller cars like the Citroen C3 Aircross, and the CX-5 is a bit larger, so it takes on models such as the Renault Koleos.
However, the Japanese brand's latest model, the CX-30, aims to fill this gap. To do so effectively it will need to take on many key rivals – but the most important of all is the Skoda Karoq. This car is our current favourite in this class, since it strikes the best balance between the key areas for buyers: practicality, refinement, comfort and running costs.
The CX-30 has a few tricks up its sleeve to gain ground, though. The most significant of these is Mazda's new SkyActiv-X engine, which is a petrol motor with advanced combustion technology to make it highly efficient. It also has a mild-hybrid system to boost fuel economy even further.
Here we'll see whether the Mazda's clever tech under the skin works as advertised, and we'll also find out how well the all-new CX-30 compares to the best car in its class. 
Mazda CX-30
| | |
| --- | --- |
| Model: | Mazda CX-30 2.0 SkyActiv-X 180PS 2WD GT Sport |
| Price:  | £28,875 |
| Engine:  | 2.0-litre 4cyl petrol, 178bhp    |
| 0-60mph:  | 9.2 seconds |
| Test economy:  | 40.6mpg/8.9mpl     |
| CO2:  | 105g/km   |
| Annual road tax:  | £145 |
The Mazda CX-30 aims to combine the small size and lower running costs of the CX-3 with the practicality of the CX-5. However, it has a tough rival in the Skoda. With the new SkyActiv-X engine and a manual gearbox, this GT Sport CX-30 costs £28,875.
Design & engineering
SkyActiv-X is the name of Mazda's new petrol engine that features 'Spark Controlled Compression Ignition'. It works by using a high compression ratio, which allows for a leaner fuel-air mixture. A spark is used to ignite a tiny amount of fuel, which then increases heat and pressure to combust the rest of the fuel and make power.
This high compression is similar to a diesel engine – which should mean better fuel economy, because it makes better use of a smaller amount of fuel – yet it can automatically switch to normal spark ignition when more power is needed higher in the rev range. A small supercharger is used to get as much air into the cylinders as possible, but the 2.0-litre four-cylinder engine doesn't have a turbocharger like most rivals in this class, including the Karoq.
It's also joined by a mild-hybrid system, which recuperates energy under braking and adds a small boost when pulling away from a standstill.
The use of this new technology is possible because the CX-30 sits on Mazda's latest SkyActiv platform, which shares parts with the Mazda 3 hatchback. It uses a typical suspension layout for this class: MacPherson struts up front and a torsion beam at the rear. It also features Mazda's G-Vectoring tech, which varies engine torque to improve cornering stability.
Inside, the CX-30's cabin is excellent; build quality is very high and the materials are great. Mazda has done a great job of using the design of the dash to hide any cheaper plastics away, giving an upmarket feel. It seems much more plush than the Skoda, and even beats premium models like the Audi Q3.
Partnership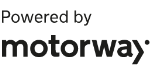 Need to sell your car?
Find your best offer from over 5,000+ dealers. It's that easy.
Standard equipment is excellent, too. There's an 8.8-inch infotainment display with smartphone connectivity and sat-nav, adaptive cruise, climate control, heated leather seats, LED lights and a powered tailgate on this high-spec GT Sport model.
Driving
The SkyActiv-X engine is excellent in some ways, but it's not without its drawbacks. The compression combustion process means a slight hint of diesel-like clatter at idle and low revs, but the engine is so quiet that you really have to pay attention to hear it.
As the revs rise, it switches to normal ignition seamlessly and the engine note changes to a smooth, pleasant rasp that will appeal to fans of naturally aspirated engines. The unit thrives on revs, which ensures it's fun to drive, but the lack of a turbo means that it can feel underpowered lower in the rev range when compared with its rival here.
The result is that you need to use the manual gearbox and rev the engine harder than you would in the turbocharged Karoq. However, this adds to the CX-30's driving experience, because the six-speed manual gearbox is by far the best in this class, with a smooth, precise shift action and perfect placement in the cabin. Needing to use revs means refinement suffers in moments of acceleration, but the rest of the time the engine is almost inaudible in the cabin. Wind and road noise are low as well.
Performance is strong: we recorded a time of 9.2 seconds to get from 0-60mph, which was the same as the Karoq in this test. The Mazda was quicker from 30-70mph through the gears, with a time of 9.4 seconds beating the Skoda's 12.2-second best. However, in-gear performance wasn't as strong.
The CX-30 is still the best car in its class to drive, though. It has lots of grip, well weighted steering, plenty of agility, and the ride remains composed, comfortable and tied-down even on rough roads.
Practicality
The CX-30 has 430 litres of boot space, which is at the lower end of the spectrum for cars in this class. It's still plenty for most families, but it does fall behind the Karoq's. The Skoda's boot space is further improved by the sliding rear bench seat, which means you can expand the space from 479 to 588 litres if needed.
Adults can fit into the Mazda's rear seats, but headroom is poor – unless you sit completely upright, the angle of the roofline gets in the way. Legroom is okay, but with a tall driver ahead, this may create issues with adults in the back seats.
Ownership
In our Driver Power 2019 survey, Mazda finished an impressive fourth, which was one place ahead of its rival Skoda here. Those results mean that both cars should offer a straightforward ownership experience.
The CX-30 and the Karoq both have five-star Euro NCAP ratings, but the CX-30 edges ahead with a very impressive 99 per cent rating in the Adult Protection category. That means it's one of the safest cars on sale, while standard safety kit includes blind-spot assist, AEB and rear cross-traffic alert.
Running costs
Mazda's innovative SkyActiv-X engine returned 40.6mpg on test, which is ultimately a disappointment. The clever engine tech is supposed to deliver diesel-like running costs, but in the real world it was only slightly more efficient than the Karoq, which managed 38.9mpg.
Still, with emissions of just 105g/km, it's cheaper to run as a company car; standard-rate earners will pay £1,434 in tax for the Mazda and £1,619 for the Karoq. That's because the CX-30 sits in the 25 per cent Benefit-in-Kind tax bracket, while the Karoq falls into in the 28 per cent bracket. 
Testers' notes: "Why isn't this car, which sits between the CX-3 and CX-5 in the Mazda range, called the CX-4? Simple, really: the CX-4 already exists. It's an older China-only coupé-SUV that's based on the CX-5."
Skoda Karoq
| | |
| --- | --- |
| Model: | Skoda Karoq 1.5 TSI 150PS Edition |
| Price:  | £29,130 |
| Engine:  | 1.5-litre 4cyl petrol, 148bhp  |
| 0-60mph:  | 9.2 seconds |
| Test economy:  | 38.9mpg/8.6mpl |
| CO2:  | 121g/km |
| Annual road tax:  | £145 |
The Skoda Karoq is an Auto Express Award-winner and our current class favourite. Here we're testing the high-spec Edition version (although our pictures show a SportLine model) with a 1.5-litre petrol engine and manual gearbox. It costs £29,130.
Design & engineering
The Skoda Karoq is based on the Volkswagen Group's widely used MQB platform, which means it shares parts with a variety of models, including the VW Golf and SEAT Ateca. Like its rival here, it uses MacPherson struts up front, with a torsion beam at the rear.
Adaptive dampers are available as part of the Dynamic Chassis Control option, which costs £1,025. This system adjusts the damping automatically to improve comfort and body control, and with this set-up fitted the Karoq is 10mm lower than standard.
The engine in the Skoda is more conventional than the Mazda's. It's a 148bhp 1.5-litre turbocharged four-cylinder petrol, so despite having a smaller capacity and less power than the CX-30, the Karoq has a higher maximum torque figure. At 250Nm, it's 26Nm up on the Mazda, but this comes in at a lowly 1,500rpm, compared with 3,000rpm for the CX-30.
Like the Mazda, the Skoda has a six-speed manual gearbox and front-wheel drive. Both models can be had with four-wheel drive, but because the majority of owners won't use them off road, we don't think it's necessary; it simply adds weight and complexity for little benefit in the UK.
The Karoq's interior is well built and has a clean layout, but some will find it too plain, especially since the CX-30's interior is better built and more visually pleasing. Still, Edition trim adds a 9.2-inch touchscreen infotainment system with sat-nav, Apple CarPlay and Android Auto, leather seats, a rear camera, autonomous braking, heated seats, adaptive cruise control, keyless go, 19-inch alloys and LED headlights.
Driving
The Skoda's turbocharged engine gives it lots of flexibility, so you can keep revs low and change up early to make the most of the low-down torque. This boosts refinement, because it stays quiet inside at low revs and the 1.5-litre engine is nearly inaudible at idle.
Even with 148bhp the Karoq doesn't feel underpowered when compared with the 178bhp CX-30 – it has more than enough grunt for everyday use, as well as the odd overtake if needed.
It went from 30-50mph in 4.6 seconds in third and 6.1 seconds in fourth, while the Mazda took 5.4 and 7.4 seconds in those tests. This shows how the turbo on the Skoda's engine adds to its flexibility. Both cars went from 0-60mph in 9.2 seconds, despite the CX-30 being a more powerful car.
The Karoq's gearchange isn't as slick as the Mazda's, but it's precise enough and adds some involvement. The steering follows along those lines, too; it's easy to use and accurate, but doesn't have much feel.
In corners the Skoda is well controlled and the car remains composed on country roads, where it benefits from a well judged suspension set-up that keeps the worst potholes at bay. There's some movement over bumps at low speed, especially on higher-spec cars with larger alloy wheels, but as you bring the speed up, the suspension gets to work absorbing imperfections in the tarmac.
The driving position is relatively upright, and this means it's a little uncomfortable for taller drivers because the steering column eats into legroom. But visibility is good, and most drivers will be able to find a position that's comfortable enough.
Practicality
Versions of the Karoq in SE L spec and above feature Varioflex seating in the rear. This means the 60:40-split bench seat can slide back and forth, allowing you to prioritise either load capacity or passenger legroom.
Even with the seats set to maximise passenger space, the Karoq has more room in the boot than the CX-30. There's a minimum of 479 litres in the Skoda, but the Mazda has 430 litres. The Karoq's boot increases to 588 litres with the seats forward, or 1,605 litres with them folded down. The CX-30 has a maximum of 1,406 litres with the seats flat.
There's lots of leg and headroom in the back of the Karoq, and the level roofline and big windows mean it has an airy, spacious feel in the back when compared with the Mazda. Practicality is a big strong point for the Skoda, which is why it shot to the top of the compact-SUV class at launch.
Ownership
Skoda usually scores well in our Driver Power surveys, and 2019 was no exception; the brand finished fifth. In the dealer section of the poll, Skoda came in 10th, yet Mazda came in a very poor 27th place, so aftercare should be better if you buy the Czech model.
Safety is strong in both cars, and the Karoq features lane-keep assist, blind-spot monitoring, traffic-sign recognition, AEB and a reversing camera as standard. It matches the Mazda for kit.
Running costs
The Skoda costs more to run as a company car than its rival here, and our experts predict that it will hold on to less of its value after three years as well. Its predicted residual value figure is 46.8 per cent, which means it loses £15,506 in that period, while the Mazda loses £13,926 thanks to its higher residual figure of 51.8 per cent.
The Skoda is quite a bit cheaper to insure, though. Our example driver will pay £622 a year for cover on the new Mazda, but only £429 for a year's premium on the Karoq.
Testers' notes: "The Karoq has a maximum braked towing capacity of 1,400kg, which is 100kg more than the CX-30 can pull. A towbar is available from the Skoda accessories catalogue, and costs £875."
Verdict
First place: Skoda Karoq
The Karoq is the best car in its class, but this wasn't a dominant win for the Skoda. It's not as much fun to drive as its rival and is a bit more expensive to run, but its more flexible engine, hugely practical interior and relaxed driving experience mean it will suit SUV buyers better. Edition trim is expensive, but models lower down the range offer excellent value for money and still have all the kit you'll need.
Second place: Mazda CX-30
The CX-30 finishes second here, but only because it falls behind in two key areas: practicality and performance. In every other area it's excellent – it's agile, rides smoothly, has a class-leading interior, the infotainment is great, it's quiet in the cabin and it's more efficient than its rival here. However, the clever new engine isn't quite as frugal as we'd hoped, diminishing the CX-30's appeal. 
Other options in this category...
Toyota C-HR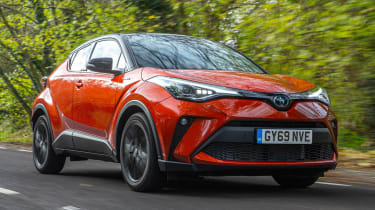 Model: Toyota C-HR 1.8 Hybrid DesignPrice: £28,005Engine: 1.8-litre 4cyl, 122bhp
The recently revised C-HR is similar to the Mazda CX-30. Both have a sleek design and superb handling – the Toyota is the Mazda's closest rival for fun in this class – but with limited rear-seat and boot space. The Toyota is a full hybrid, so fuel economy is excellent. 
Peugeot 3008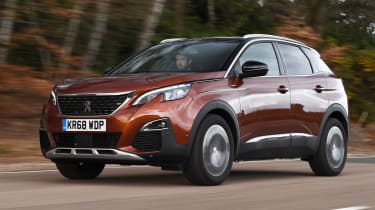 Model: Peugeot 3008 1.2 PureTech AllurePrice: £27,665Engine: 1.2-litre 3cyl, 128bhp
The 3008 is about the only car in this class that can rival the CX-30 for interior quality, while a digital dash is standard on all models. The Peugeot is nearly as practical as the Skoda Karoq, and it's a previous Auto Express Award-winner as well.
Figures
| | | |
| --- | --- | --- |
|   | Skoda Karoq 1.5 TSI 150PS Edition | Mazda CX-30 2.0 SkyActiv-X 180PS 2WD GT Sport |
| On the road price/total as tested | £29,130/£29,130 | £28,875/£29,425 |
| Residual value (after 3yrs/36,000) | £13,624/46.8% | £14,949/51.8% |
| Depreciation | £15,506 | £13,926 |
| Annual tax liability std/higher rate | £1,619/£3,237 | £1,434/£2,867 |
| Annual fuel cost (12k/20k miles) | £1,774/£2,957 | £1,700/£2,833 |
| Ins. group/quote/road tax cost | 16/£429/£145 | N/A/£622/£145 |
| Servicing costs | £342 (2yrs) | £799 (3yrs) |
|   |   |   |
| Length/wheelbase | 4,382/2,638mm | 4,395/2,655mm |
| Height/width | 1,603/1,841mm | 1,540/1,795mm |
| Engine | 4cyl in-line/1,498cc | 4cyl in-line/1,998cc |
| Peak power/revs | 148/5,000 bhp/rpm | 178/6,000 bhp/rpm |
| Peak torque/revs | 250/1,500 Nm/rpm | 224/3,000 Nm/rpm |
| Transmission | 6-spd man/fwd | 6-spd man/fwd |
| Fuel tank capacity/spare wheel | 50 litres/repair kit | 51 litres/repair kit |
| Boot capacity (seats up/down) | 479-588/1,605 litres | 430/1,406 litres |
| Kerbweight/payload/towing weight | 1,373/537/1,400kg | 1,392/573/1,300kg |
| Turning circle | 10.2 metres | 10.6 metres |
| Basic warranty (miles)/recovery | 3yrs (60,000)/3yrs | 3yrs (60,000)/3yrs |
| Driver Power manufacturer/dealer pos | 5th/10th | 4th/27th |
| NCAP: Adult/child/ped./assist/stars | 93/79/73/58/5 | 99/86/80/77/5 |
|   |   |   |
| 0-60/30-70mph | 9.2/12.2 secs | 9.2/9.4 secs |
| 30-50mph in 3rd/4th | 4.6/6.1 secs | 5.4/7.4 secs |
| 50-70mph in 5th/6th | 8.7/11.0 secs | 10.4/17.3 secs |
| Top speed/rpm at 70mph | 127mph/2,250rpm | 127mph/2,400rpm |
| Braking 70-0/60-0/30-0mph | 48.0/35.0/9.1m | N/A |
| Noise outside/idle/30/70mph | 72/43/61/70dB | 58.2/37.0/12.2m |
| Auto Express econ (mpg/mpl)/range | 38.9/8.6/428 miles | 40.6/8.9/455 miles |
| WLTP combined mpg | 39.2-42.8mpg | 47.9mpg |
| WLTP combined mpl | 8.6-9.4mpl | 10.5mpl |
| Actual/claimed CO2/tax bracket | 168/121g/km/28% | 161/105g/km/25% |
|   |   |   |
| Airbags/Isofix/park sensors/camera | Eight/yes/yes/yes | Seven/yes/yes/yes |
| Auto/lane keep/blind spot/AEB | £1,300/yes/yes/yes | £1,520/yes/yes/yes |
| Clim ctrl/cruise/leather/heat seats | Yes/yes/yes/yes | Yes/yes*/yes/yes |
| Met paint/LEDs/keyless/pwr tailgate | Yes/yes/yes/yes | £550/yes/yes/yes |
| Sat-nav/digi dash/DAB/apps | Yes/£465/yes/yes | Yes/no/yes/yes |
| Wireless charge/CarPlay/Android Auto | No/yes/yes | No/yes/yes |