Mercedes VAN.EA platform to underpin all new van models
Mercedes is developing new technology for its next generation of all-electric vans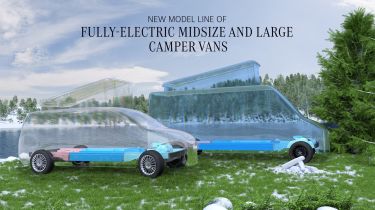 From 2026 all new mid-sized and large Mercedes vans will be built on the firm's upcoming all-electric VAN.EA architecture. 
Mercedes says the technology will allow for 'clear differentiation' between luxury vans and commercial models. In luxury private vans for instance, Mercedes will use a VAN.EA-P variant of the new platform and commercial vans will use VAN.EA-C, with 'P' standing for premium and 'C' standing for commercial.
A driving range of at least '500km' (310 miles) is being targeted for Mercedes vans with the premium version of the VAN.EA platform. Mercedes also says that VAN.EA will be offered with in front-wheel drive single motor guise or as a dual-motor all-wheel drive.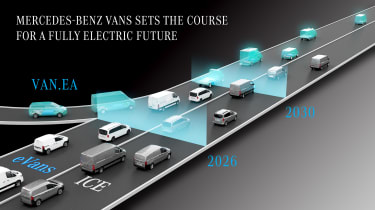 The line-up of all-electric vans sitting on this new architecture will utilise Mercedes' upcoming MB.OS infotainment system and the premium models will be "always on" according to Mercedes, meaning they are connected to the internet at all times and able to receive updates. Level 2 automated driving will be available, with plans to roll out Level 3 automation by end of the decade.
The first Mercedes van due out on VAN.EA architecture is scheduled for 2025 and should be a replacement for the new second-generation Mercedes eSprinter electric panel van. 
Read all the latest new van news and reviews here...