Long-term test review: Mercedes CLA 45 AMG
Premium Mercedes CLA 45 AMG coupe is a crowd-pleaser at Goodwood Festival of Speed
Mileage: 7,500Real-world fuel economy: 27.2mpg
If you were one of the thousands of motoring fans who enjoyed the recent Goodwood Festival of Speed, then you may have seen, or even sat in, our CLA 45. The Mercedes stand featured an all-white line-up of AMG products and our car was called upon to shine under the bright lights of the stand, which I thought was pretty appropriate. 
Having lived with the CLA 45 for over six months, I think it's one of the stars of the Auto Express fleet. Its looks divide opinion in our office, but from the front at least, I think it looks great. It was certainly eye-catching at Goodwood. 
With its slightly odd-looking tail backed up to the main stage and powerful lights highlighting the attractive contrast between its bright white paint and glossy black detailing, the baby of the AMG range looked every bit as special as the other cars on the stand. Even in the company of a full range of mighty V8 AMG models, our CLA was drawing a decent crowd when we arrived to take some pictures.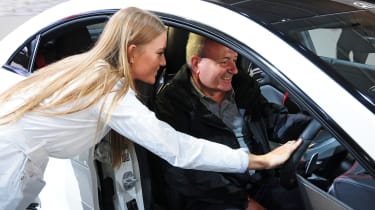 Chatting with the stream of people climbing in to get behind the wheel, it was clear the upmarket cabin struck the right chord. The supportive seats and sporty driving position went down well, while the £570 Alcantara-trimmed wheel attracted plenty of praise. 
The silver shift paddles also got plenty of action as visitors tried the CLA for size. The keys had been safely hidden away by security, so it was left to me to explain the aural highlights of the recently fitted optional sports exhaust. Plenty of inquisitive stand visitors were surprised the car only had a two-litre turbo engine, although I doubt they'd be disappointed with the performance.
With the Mercedes now back in the Auto Express garage, and armed with the added perspective of having recently driven an Audi S3 saloon, I've been reacquainting myself with the CLA.
While the Audi's adaptive dampers and punchy low-down torque hand it some advantages over the 45 AMG, there's something about the CLA that makes it feel a fraction more removed from a hot hatch than its Audi rival.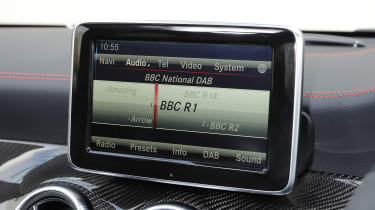 As the spec sheet on the show stand reminded us, with £12,450 worth of options, our CLA 45 is far from cheap, so it needs to feel special at that price. Still, a quick straw poll of people I chatted with at Goodwood suggested they thought it was worth the £4,000 premium over an A45 hatch. 
As we've said before, the driving experience doesn't disappoint. You have to keep the engine in its sweet spot, but the excellent dual-clutch transmission makes this really easy. It's smooth in auto mode, too, while the stop-start is good around town. 
I'm enjoying being back in the CLA's smart cabin – the optional COMAND navigation and Harman Kardon audio system are great, while the 470-litre boot is as practical as ever. 
With its moment in the limelight over, it's now time for our CLA to get back to regular business on the Auto Express fleet. Let's hope its star status doesn't dim in its final months with us.
Mercedes CLA 45 AMG report 3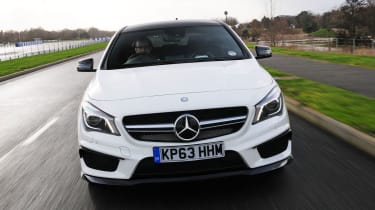 Mileage: 6,400 miles Real world fuel economy: 26.9mpg
The Mercedes AMG turning arm is going from strength to strength, thanks to 26 models in the line-up, record sales and its new Porsche 911-rivalling Mercedes AMG-GT sports car on the horizon. 
So we headed to the AMG HQ in the sleepy town of Affalterbach, less than an hour from Stuttgart, to get an idea of what makes AMG so special - after all, what better test for our Mercedes CLA 45 AMG than a 1,000-mile round trip across Europe? 
Affalterbach has been the home of AMG ever since its early days as an independent Mercedes tuner, and AMG buildings are dotted all over the small trading estate, with 'Birthplace of Performance' posters reminding you that Affalterbach is AMG town.
We're shown the famous 'One man One Engine' assembly area where all the Mercedes powering AMG V8 and V12 engines are made. Customer host Alexander Weber explains that this is repeated at Mercedes' Kolleda four-cylinder plant, where CLA 45, GLA 45 and A45 engines are built by AMG technicians on a dedicated line.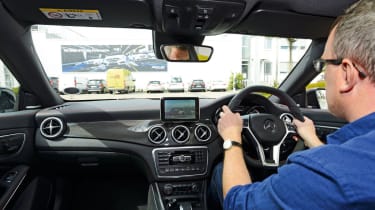 "Today, an AMG version of a new Mercedes is part of the engineering process from the start," Weber told us. "We have the biggest brakes, engines and wheels with the most demanding cooling requirements, so while AMG cars aren't assembled here, every one is developed here, and aside from the 45 turbo cars, the engine is hand-built here."
The turbo on the Mercedes CLA 45 AMG certainly impressed on the drive to Germany – even more so since we fitted the sports exhaust, which is an option worth around £460. It provides a lovely burble at idle and a firecracker bang when you shift up at full revs. Yet it doesn't ruin refinement, and unlike lots of sports exhausts, there's no drone at motorway speeds.
Even better was the suspension, which is more suited to smooth European roads - the rock-solid handling composure of the Mercedes CLA 45 AMG  was brought home on some twisty roads away from the motorway. The freedom of the German Autobahn revealed the depth of the performance on offer, too.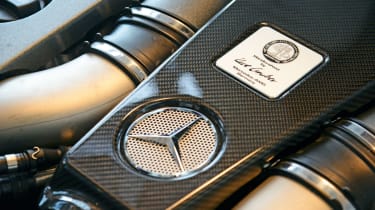 Plus, after two days and around 20 hours in the CLA, I was impressed at how comfortable it was. This dependable, upmarket fast car soaked up the demands of the journey as you'd expect an AMG to.
Mercedes CLA 45 AMG report 2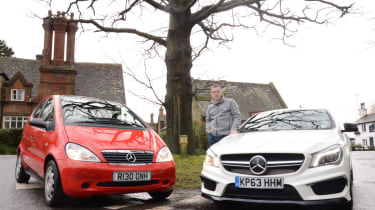 Mileage: 2,500 miles Real world fuel economy: 24.9mpg
Many of us have taken the time to study our family tree, and it's not unusual for the fascinating twists and turns of ancestry to reveal forefathers very different from ourselves.
That's the case with our Mercedes CLA 45. A coupe-inspired saloon derivative of the current A-Class, it couldn't be more different from the original A-Class.
The first A-Class was a radical departure for Mercedes – a car designed to squeeze the space of a family hatch into a supermini footprint, with a lofty roofline and clever sandwich floor packaging. It was launched in 1997, and you'd never have imagined that17 years later, the front-wheel-drive 1.4-litre 80bhp A140 would help spawn a 355bhp four-wheel-drive descendant.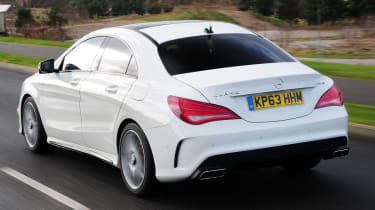 As a young racing driver working as a track instructor on a fleet driving event, I remember demonstrating an A-Class around Silverstone. While its handling wasn't thrilling, the quality, clever packaging and ease of driving left a lasting impression. 
Driving one today is a trip down memory lane, although aside from the lineage there's little to remind you of our CLA 45 – which I'm really warming to.
While it feels like a well sorted front-wheel-drive hatch, the all-wheel-drive system transfers power rapidly to the rear, and on the rain and mud-soaked roads near my country home, the CLA is impressively planted. The effortless performance on tap is fantastic.
The optional Distronic Plus adaptive cruise control, COMAND navigation and Harman Kardon audio all soothe the miles on longer trips, and make up for the slightly firm ride. I'm also sure switching to summer tyres will add a little extra precision to the handling.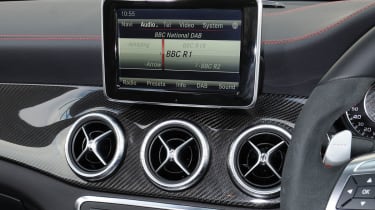 The AMG's appetite for fuel means that even with gentle driving I haven't managed 30mpg yet, but it's a price worth paying. And as a measure of how much cars have moved on, the CLA 45 emits 161g/km of CO2 – 5g/km less than the 1.4-litre 80bhp A140 from 1997. There's no stopping progress...
Mercedes CLA 45 AMG report 1
Mileage: 1,000 milesReal world fuel economy: 23.0mpg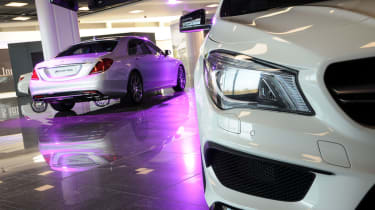 If it wears an AMG badge, then you know it's a special Mercedes. From humble beginnings as an independent tuner, AMG has grown to become one of the world's most celebrated performance car brands.
The UK is now its fastest-growing market, so what better time for us to add an AMG model to our fleet for the first time? Although the high-performance brand sold 3,127 cars in the UK last year (40 per cent more than in 2012), and has a range that extends to 21 models (that's now grown to 26), there's still an air of exclusivity to driving one of the Mercedes' it's worked its magic on. 
This special feel is only reinforced when you collect your car from the AMG Performance Studio at Mercedes Benz World, at the legendary Brooklands site near Weybridge in Surrey.
The vast facility is open to the public, and is well worth a visit – especially the third floor, which is dedicated to all things AMG.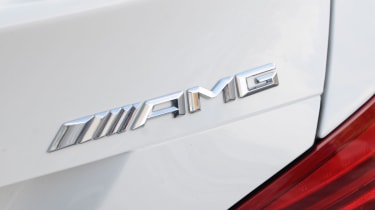 It's here we were introduced to our new Mercedes CLA 45 AMG. Customer service host Charlie Woolley explained that the Performance Studio allows customers to immerse themselves in the AMG experience, and as he handed over the keys, I took in some of our new Mercedes' statistics. 
Four-wheel drive, a 355bhp 2.0-litre turbo engine and a claimed 0-62mph time of just 4.6 seconds... even though this car doesn't have a famed AMG V8, it promises to be the real deal.
And while it costs £4,075 more than the mechanically identical A45 AMG, our white four-door CLA 45 AMG looks the part, even in a showroom full of far more expensive AMGs.
It's far from cheap, though, and that's before the £12,450 worth of options added to our CLA 45. On the outside, it's marked out by xenon lights, red-painted brake calipers and a sliding glass roof, while inside the £1,640 AMG Exclusive Package brings red-stitched leather and heated seats, plus there's carbon dash trim, for £920 extra.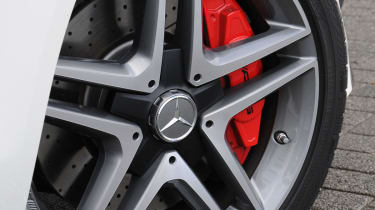 The £570 Alcantara-trimmed AMG steering wheel and accompanying metal shift paddles are great, while the familiar A-Class-based cabin is easy to get on with and comfortable. The optional COMAND navigation and Harman Kardon audio systems are further highlights. 
The good first impressions continue on the road, with power delivered to all four wheels. Traction is excellent, even on damp surfaces, while opting for Continental WinterContact tyres should ensure our CLA 45 AMG is ready for the worst the winter can throw at it.
There's a little bit of turbo lag, but if you keep the 2.0-litre engine in its sweet spot, acceleration is entertaining and a crackling exhaust note accompanies each gearshift.
There isn't a huge amount of feedback, but steering weighting is decent, and with suspension tuned for strong body control and stiffness, the CLA turns in well, doesn't roll much and grips hard through corners – although we'll have to reserve final judgement on the handling until we switch to summer tyres later in the year.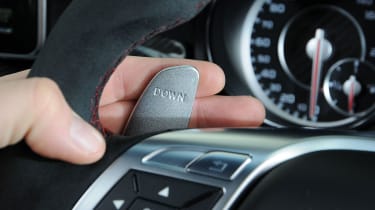 But even with the smaller no-cost option 18-inch wheels (19-inch rims are standard), the ride is firm on undulating back roads. 
Still, the 470-litre boot means practicality shouldn't be an issue, so I'm looking forward to living with the CLA 45 AMG – and seeing how long the special feel lasts for.
Insurance quote (below) provided by the AA for a 42-year-old living in Banbury, Oxon, with three points.