Used Mercedes CLA (Mk1, 2013-2019) review
The Mercedes CLA is a sharp-looking four-door variant of the A-Class, and rivals the Audi A3 Saloon
Verdict
It's based on the A-Class hatch, but on the face of it the CLA doesn't actually make a great deal of sense, because prices are higher and it offers substantially less practicality, unless you buy a Shooting Brake. But the standard car's saloon configuration is still relatively usable, especially if you don't need to carry lots of people or luggage. Even the entry-level cars (1.6 petrol or 1.5 diesel) are perky enough, while the bigger engines provide swift progress without being unduly thirsty. However, while Mercedes doesn't offer spartan models any more, it does do relatively poorly equipped; whatever you buy, make sure the original owner didn't scrimp on options or trim level.
Which one should I buy?
Best Mercedes CLA for low cost: CLA 180 Sport
Best Mercedes CLA for running costs: CLA 220 d Sport
Best Mercedes CLA for driving fun: AMG CLA 45 4MATIC
The CLA 180, CLA 250 and CLA 200 d came with a six-speed manual gearbox, and a seven-speed auto was offered as an option; all other CLAs were fitted with the auto as standard, with no manual option.
Sport specification models come with 18-inch alloy wheels, Active Park Assist, automatic headlights and wipers, dual-zone climate control, cruise control with speed limiter, a media display, artificial leather trim and a multifunction steering wheel. AMG Sport adds bi-xenon headlights, privacy glass and Sport suspension, which is both stiffer and lowered by 20mm at the front, and 15mm at the rear).
Be on the lookout for cars fitted with the Exclusive package, which adds comfort features such as heated front seats and upgraded interior trim. Other options worth having include the rear camera, Harman/Kardon hi-fi, DAB radio (standard on the CLA 45 AMG) and panoramic sliding sunroof.
Buying a later, post-facelift CLA ensures you get more equipment for your money and improved styling. The AMG Line became the entry-level trim and features everything you need in a saloon car. Indeed, take a look at the spec list of the CLA you're considering; the option packs add little to the value of a used car.
What are the alternatives?
In concept, the Volkswagen CC is perhaps closest to the CLA, because it's also a saloon with a coupe-like silhouette – but the VW is 300mm longer, so it's a size up. The Audi A3 Saloon – while not as sleek as the CLA – is also well worth a look.
The five-door Audi A5 Sportback is slightly longer than the CLA, and it adds hatchback practicality to the mix. Like the CC and A3 it's good to drive, has a plush interior, is well equipped and comes with some excellent engines, too. If you're really keen to have a saloon, you could opt for an Audi A4 which is also only slightly longer than the Merc, while the BMW 3 Series is about the same size.
With its conventional saloon silhouette you get improved rear seat space and, if you want extra usability without resorting to an estate, there's always the five-door BMW 3 Series GT.
Mercedes CLA 220 CDI Sport vs Volkswagen CC GT 2.0 TDI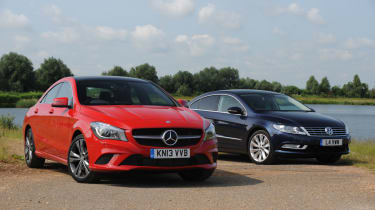 One could argue that the Volkswagen CC is little more than a Passat in fancy dress, while the Mercedes CLA is just a less practical A-Class. But when image is everything, these cars start to make more sense. It was a narrow victory for the Volkswagen when it faced the then-new CLA in 2013, but we praised the newcomer's interior and efficient engines. Read the full test...
Audi A3 vs Mercedes CLA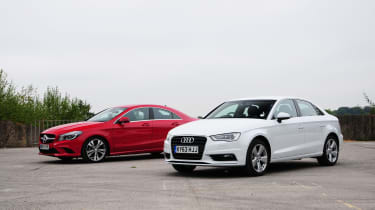 It was another defeat for the Mercedes CLA when it faced the Audi A3 saloon. We called the Audi an "accomplished premium compact car", praising its economy, quality and upmarket appeal. We even said it was a "sensible and top-value alternative" to the larger and more expensive Audi A4. Read the full test...
Audi S3 Saloon vs Mercedes CLA 45 AMG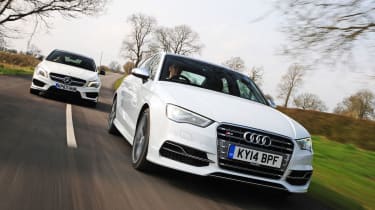 Without wishing to sound like a broken record, it's another defeat for the Mercedes CLA, this time in the battle of two performance saloons. The fact that the S3 Saloon was £10,000 cheaper than the CLA 45 AMG was a big factor in the Audi's victory, but we did say that the Mercedes was more exciting than its rival. Read the full test...