Mercedes-AMG E 63 S vs Audi RS7 Performance
The wild Mercedes-AMG E 63 S meets the Audi RS7 Performance in a mega 600bhp 4WD saloon fight
Performance saloons have taken yet another step towards supercar territory, and it's the new Mercedes-AMG E 63 S that's arrived looking to upset the apple cart. This twin-turbo V8 four-door has more power than a Lamborghini Huracan, highlighting just how much potential Mercedes and rival Audi are packing into their family cars these days.
To harness all that force, the new E63 S is now four-wheel drive. This is a controversial step for some, but it's in an attempt to maximise acceleration and security, allowing the driver to access more of that power more of the time.
• Best performance cars on sale
One consequence of this move is that the AMG now falls in the firing line of one of the best high-performance four-wheel-drive cars on sale: the Audi RS7 Performance. It, too, boasts a turbo V8 with nearly 600bhp and all-wheel drive, but with enough comfort, space and tech to make any journey easy. Which will be victorious in our battle of ultra-fast family cars?
Mercedes-AMG E 63 S
| | |
| --- | --- |
| Model: | Mercedes-AMG E 63 S 4Matic+ |
| Price: | £88,490 |
| Engine: | 4.0-litre twin-turbo V8, 604bhp |
| 0-60mph: | 3.3 seconds |
| Test economy: | 20.7mpg/4.6mpl |
| CO2: | 207g/km |
| Annual road tax: | £450 |
Mercedes' in-house tuning division AMG is known for packing an incredible level of power into its saloon car bodies, and the latest E 63 pushes boundaries further than the brand has before. Here we test the more potent £88,490 E63 S model.
More reviews for E-Class E63 AMG Saloon
On the road is where the E 63 really asserts its authority. The 604bhp twin-turbo V8 is ferocious and, thanks to launch control and four-wheel drive, it hurled the E 63 from 0-60mph in just 3.3 seconds on test. Not bad for a near-two-tonne saloon.
With 850Nm of torque on overboost (100Nm more than the Audi) from as low as 2,500rpm, in-gear performance was colossal, too. The E 63 was 3.1 seconds faster from 50 to 70mph in eighth, while it held an advantage pretty much everywhere over the RS7. Its sharper nine-speed dual-clutch transmission ripped through the gears from 30 to 70mph in just 1.8 seconds, 1.9 seconds faster than the Audi. The gearbox is also more responsive in manual mode, rifling up the ratios quicker than the Audi and downshifting with less hesitation.
With the £1,000 performance exhaust, the E 63 is more vocal than the RS7. It's also more hardcore on the move. The Mercedes is stiff; even with the three-stage adaptive dampers in the softest setting the body is controlled more tightly than the Audi's. The air suspension has been tuned by AMG for better body control and the tauter chassis relays more movement through to the cabin, its fat 20-inch wheels thumping over creases in the road.
While the RS7 is softer and more supple, this means it's nowhere near as capable in corners. The E 63's steering is lighter and communicates in more detail what's going on with the front wheels, which gives you confidence to push. Active engine mounts improve agility, but it's not all about flat-out performance. It's as much about fun, and while the E 63 isn't quite as comfortable, the Drift mode – which turns the car into a rear-drive saloon – means you can easily indulge in some traditional AMG behaviour and unlock the chassis's balance.
Testers' notes: "E 63 owners get a free driver training package so they can safely learn to explore the car's limits. With 604bhp and rear-wheel-drive-only potential, it's a worthwhile exercise."
Audi RS7 Performance
| | |
| --- | --- |
| Model: | Audi RS7 Sportback Performance |
| Price: | £94,185 |
| Engine: | 4.0-litre twin-turbo V8, 597bhp |
| 0-60mph: | 3.9 seconds |
| Test economy: | 18.4mpg/4.1mpl |
| CO2: | 221g/km |
| Annual road tax: | £450 |
Audi boosted the RS7's appeal halfway through the model's lifecycle by adding this £94,185 Performance version. This increased the power to 597bhp, meaning it can compete with Mercedes' E 63 S on paper, but is this enough to challenge the AMG for supremacy on the road?
With 100Nm less torque and no race-start function due to the conventional eight-speed automatic gearbox, the RS7 covered 0-62mph in 3.9 seconds – still quick, but some way behind the E 63. The transmission also showed its downside going through the gears between 30 and 70mph, where it trailed the Mercedes by 1.9 seconds.
However, it is genuinely smooth in auto mode, which makes the RS7 easy to live with. The chassis set-up is softer, too, and even on large 21-inch wheels the Audi rolls over bumps where the Mercedes tends to get upset. It's still no super-smooth cruiser, but it offers more long-distance comfort than the E 63.
Turn on to some country lanes and it's clear the Audi is outclassed. The engine revs with a bassy rumble through its sports exhaust, popping and banging on downshifts, but the throttle response is snatchy in Dynamic mode and the gearbox jerks going up and down the ratios in manual as if it's right on the limit of what it can handle.
The steering is more corrupted by the presence of a pair of driveshafts at the front, too. There's little feel and it's more resistant to your inputs, and although there's plenty of traction, the RS7's chassis feels heavy and lethargic compared with the more agile AMG's. Even in the firmest damper setting, it struggles to contain its mass and isn't as adjustable as the E 63. It also pitches more violently under hard acceleration and braking. Ultimately, it doesn't have the control or composure of the AMG, nor the bombastic engine. It's still fairly fun and ridiculously fast, but the AMG shows the pace of progress.
Testers' notes: "Both the RS7 and E 63 place their turbos inside the cylinder block's V for improved throttle response. The Mercedes engine is the sweeter and offers unbelievable urge."
Verdict
First place: Mercedes-AMG E 63 S
The E 63 S is a stunning supersaloon. It's not lost much of its character in the move to 4WD, while drift mode adds a dose of old-school AMG flavour. Instead, it's even more effective most of the time, mixing huge pace and usability. It's pricey and won't be cheap to run, but the savings over the RS7 and the extra tech highlight just how comprehensive a package the E 63 is.
Second place: Audi RS7 Performance
There's no denying the RS7 now feels at least a generation behind the curve. It's not as fast nor as fun or as adjustable as the AMG, and can't match its practicality or cutting-edge tech. The RS7 still has its merits thanks to its quality, comfort and true all-weather pace, but a high price and eye-watering running costs limit its appeal compared with the E 63.
Is it worth waiting for this model?
BMW M5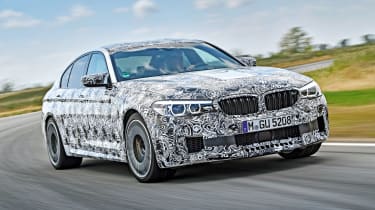 Due: Late 2017 Price: £85k (est)Engine: 4.4-litre V8, 610bhp (est)
It's not just AMG turning to four-wheel drive. BMW's next M5 will send power from its twin-turbo V8 to all four wheels. There'll be a drift mode, too, along with practicality and tech that should give the E 63 a serious rival.
Figures
| | | |
| --- | --- | --- |
| | Mercedes-AMGE 63 S 4Matic+ | Audi RS7 Sportback Performance |
| On the road price/total as tested | £88,490/£101,320 | £94,185/£115,360 |
| Residual value (after 3yrs/36,000) | £49,103/55.5% | £39,850/42.3% |
| Depreciation | £39,387 | £54,335 |
| Annual tax liability std/higher rate | £6,495/£12,989 | £6,877/£13,754 |
| Annual fuel cost (12k/20k miles) | £2,938/£4,896 | £3,305/£5,508 |
| Ins. group/quote/road tax cost | 47/£1,340/£450 | 50/£1,534/£450 |
| Cost of 1st/2nd/3rd service | £45pm (3yrs/3 services) | £376/£669/£1,213 |
| | | |
| Length/wheelbase | 4,988/2,939mm | 5,012/2,915mm |
| Height/width | 1,463/1,907mm | 1,419/1,911mm |
| Engine | V8/3,982cc | V8/3,993cc |
| Peak power/revs | 604/5,750 bhp/rpm | 597/6,100 bhp/rpm |
| Peak torque/revs | 850/2,500 Nm/rpm | 750/2,500 Nm/rpm |
| Transmission | 9-spd dual-clutch/4wd | 8-spd auto/4wd |
| Fuel tank capacity/spare wheel | 66 litres/compressor | 75 litres/repair kit |
| Boot capacity (seats up/down) | 540 litres/N/A | 535/1,390 litres |
| Kerbweight/payload | 1,955/570kg | 1,930/585kg |
| Turning circle/drag coefficient | 12.5 metres/N/A | 11.9 metres/N/A |
| Basic warranty (miles)/recovery | 3yrs (unlimited)/3yrs | 3yrs (60,000)/3yrs |
| Service intervals/UK dealers | 15,500 miles (1yr)/147 | Variable/118 |
| Driver Power manufacturer/dealer pos | 21st/12th | 18th/15th |
| NCAP: Adult/child/ped./assist/stars | 95/90/77/62/5 (2016) | 91/83/41/86/5 (A6, 2011) |
| | | |
| 0-60/30-70mph | 3.3/1.8 secs | 3.9/3.7 secs |
| 30-50mph in 3rd/4th | 1.6/2.6 secs | 2.1/2.4 secs |
| 50-70mph in 5th/6th/7th/8th | 2.6/3.7/5.0/7.9 secs | 2.8/4.0/6.1/11.0 secs |
| Top speed/rpm at 70mph | 155mph/1,500rpm | 155mph/1,700rpm |
| Braking 70-0/60-0/30-0mph | 44.9/33.2/8.9m | 48.4/32.2/9.1m |
| Noise outside/idle/30/70mph | 63/56/63/69dB | 68/51/59/67dB |
| Auto Express econ (mpg/mpl)/range | 20.7/4.6/301 miles | 18.4/4.1/304 miles |
| Govt urban/extra-urban/combined | 24.1/37.2/31.0mpg | 21.2/38.7/29.7mpg |
| Govt urban/extra-urban/combined | 5.3/8.2/6.8mpl | 4.7/8.5/6.5mpl |
| Actual/claimed CO2/tax bracket | 315/207g/km/37% | 355/221g/km/37% |
| | | |
| Airbags/Isofix/parking sensors/camera | Seven/yes/yes/yes | Six/yes/yes/£810^ |
| Auto box/stability/cruise control/AEB | Yes/yes/yes/yes | Yes/yes/yes/£2,100 |
| Climate control/leather/heated seats | Yes/yes/yes | Yes/yes/yes |
| Met paint/LED lights/keyless entry & go | £645/yes/£2,595* | Yes/yes/£750 |
| Sat-nav/USB/DAB radio/Bluetooth | Yes/yes/yes/yes | Yes/yes/yes/yes |