Mitsubishi Outlander PHEV - best low emissions green cars
Mitsubishi's hybrid Outlander PHEV sets the standard for SUV efficiency.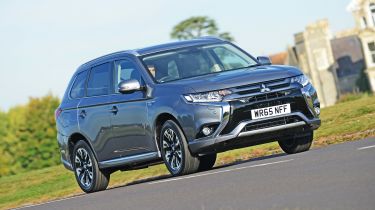 Only with the introduction of the Volvo XC90 Twin Engine can any other SUV match the Mitsubishi Outlander PHEV's low emissions and running costs. But then the Mitsubishi is considerably less expensive than the big Swede, too. It was the first plug-in hybrid SUV, and while the standard Outlander is a bit of an also-ran in its class, the hybrid model gives it added attraction.
The hi-tech plug-in hybrid powertrain features a 2.0-litre petrol engine, while the hybrid system is a development of the set-up that featured in the Mitsubishi i-MiEV. It has two 60kW electric motors, one driving the front wheels, one for the rear, and this gives the car a part-time 4WD system. Combined with a 12 kWh lithium-ion battery pack, that means the Outlander PHEV has a claimed all-electric range of 32 miles on a full charge.
Like other plug-in hybrids, it's better to let the car's electronics manage the distribution of power, although there is a setting that allows you to hold a battery charge until you're ready to use it. That's handy if your journey will involve a long motorway run, followed by some urban driving, where battery power is easier to use.
Mitsubishi claims fuel economy of 148mpg for the Outlander PHEV, although a figure around the 40-45mpg mark is more likely if you're relying on the hybrid system. That's still in the ballpark of the Outlander diesel, though, while CO2 emissions of 44g/km mean company car users will benefit from low tax bills.
The rest of the PHEV driving experience is much like the standard car. While it's not much fun to drive, it's quiet and reasonably comfortable, while top-spec versions get a raft of standard kit. It's just a shame that the car's quality is a bit of a letdown, with plenty of cheap plastics and flimsy switchgear.
Best green cars 2019