BMW i3 - best low emissions green cars
You can have zero emissions with the all-electric i3, or there's a petrol range extender, too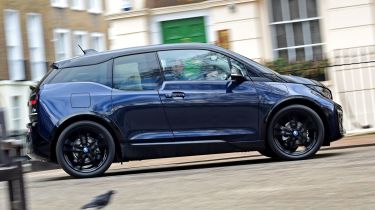 The BMW i3 is a great green car that shouts about its eco ability with its radical looks. The funky one-box design is a love it or loathe it shape, and is unlike any other BMW in the range, while its compact dimensions and tall body hide a spacious four-seater cabin. There are rear-hinged half-doors to boost access to the cabin, while the i3's door sills are finished in bare carbon fibre-reinforced plastic, so you're reminded of the car's hi-tech construction every time you get in and out of it.
The car's skinny tyres on large 19 or 20-inch wheels are another quirk of the car's design, but they are designed to reduce drag and boost the car's efficiency. The i3 shows off its carbon fibre construction, and extensive use of the material means the car is very strong yet light. There are natural fibres used in the cabin, too, further promoting the i3's green credentials.
If you want to maximise your green credentials, the full-electric i3 EV is the model to go for. An update in 2016 added a new 33kWh battery pack that improves the car's range by 50 per cent, so there's less concern about range anxiety. Official figures put the car's range at 190 miles, which will cover most journeys you're likely to take.
However, if you can't be doing with the range anxiety of the full electric i3, then there's the range extender i3 REx. This adds a two-cylinder motorcycle engine that recharges the battery when it drops below a certain voltage, giving you some added peace of mind in case you come up short when you're heading to a charging point. However if you use the i3 as it's intended, and charge it up as frequently as you can, then you should hardly trouble the engine for assistance. And with emissions of 12g/km, it'll cost peanuts to run.
Best green cars 2019