Tesla Model S - best low emissions green cars
Who said electric cars have to be dull? The Tesla Model S is a green car with some fire in its belly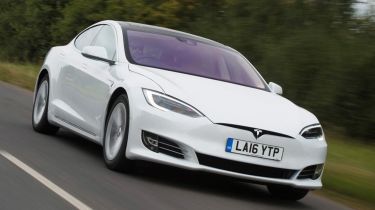 The all-electric Tesla Model S delivers executive travel with zero emissions, and is a hi-tech showcase for a range of advanced technologies. While prices are high, starting from around £59,000, owners will reap the benefits immediately, thanks to the car's ultra-low running costs.
The Model S has a look befitting of an advanced EV. A recent facelift ditched the false grille that featured from launch in 2012, and the body coloured nose gives the Model S a distinctive look, along with its low-slung body and sports car style small windows. 
While it looks sporty, the Model S is pretty practical. There's a large boot in the nose, as well as the one in the rear, while the clever packaging of the running gear means there's acres of space inside. There's even a third row of rear-facing seats in the boot. What's more, the huge tablet display on the centre console is a real talking point of the car. 
Performance from the top-spec models needs to be experienced to be believed. The fastest model, the P100D Ludicrous, has a claimed 0-62mph time of 2.5 seconds, thanks to the immediate power delivery of its two-motor, four-wheel-drive set-up. But even the entry-level 60kWh model has a 0-62mph time of 5.5 seconds.
Performance in corners isn't quite as impressive, but perhaps more interesting is the raft of autonomous driving modes the Model S offers. Branded Autopilot, it includes adaptive cruise control, lane keeping, and hands-free steering. It's as close to self-driving as you can get, and free software updates mean these technologies are kept bang up-to-date.
All models offer a potential range of around 300 miles, while Tesla's Supercharger network allows you to fast-charge the Model S for free, further reducing your running costs.
Best green cars 2019
1. BMW i3
2. Toyota Prius
6. Nissan Leaf
8. Tesla Model S
10. Hyundai Ioniq