VW Passat GTE - best low emissions green cars
The Volkswagen Passat GTE delivers the perfect combination of driving thrills and low emissions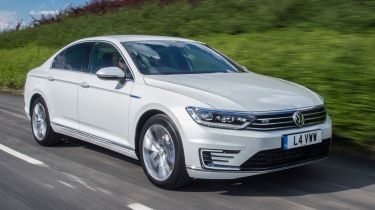 There's been a wave of plug-in hybrids in the past 12 months, and chief among them has been the VW Passat GTE. While the GTE badge has connotations of performance, as it's a variation on the famous GTI badge, the Passat GTE places efficiency at the top of its priorities.
Power comes from VW's 1.4 TSI turbo petrol engine with cylinder deactivation, and it's joined by an 85kW electric motor and 9.9 kWh lithium-ion battery pack. Combined power is 215bhp, while drive is sent to the front wheels via a six-speed twin-clutch DSG gearbox. It's not the fastest Passat in the range - that honour falls to the BiTDI twin-turbodiesel – but a 0-62mph time of 7.4 seconds is reasonably quick. 
Where the Passat GTE has an advantage is for running costs. Emissions of 39g/km are among the best for any plug-in hybrid, and VW claims 166mpg on the combined cycle. To put that into context, the GTE is greener than the Passat Bluemotion diesel to the tune of 56g/km, but with a raft of kit and a comfortable driving experience, the GTE is far from feeling like an eco-minded green model. 
You can run in full electric mode when there's a full charge, or you can use the engine to recharge the battery, but the best mode is the full hybrid setting. This automatically manages energy flow between the engine, battery and wheels, optimising efficiency depending on what driving you're doing. There's also a GTE mode, which adjusts the car for sporty driving, although the Passat is better suited to cruising refinement than sharp cornering.
There aren't many clues to the GTE's hybrid tech. Whether you choose the saloon or estate, there are blue GTE badges on the nose, tail and front wings, while the grille features a blue pinstripe across its top. C-shaped daytime running lights feature - they're a common design touch for VW's EV and plug-in models - but aside from that, and the charging flap in the nose, the GTE could be mistaken for a top-spec Passat GT.
Best green cars 2019
1. BMW i3
2. Toyota Prius
4. VW Passat GTE
6. Nissan Leaf
10. Hyundai Ioniq