Nissan Leaf - best low emissions green cars
Nissan Leaf was one of the pioneering electric cars, and the Mk2 is better than ever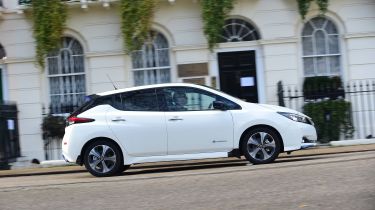 Before the Nissan Leaf arrived, electric car ownership was seen as a bit of a niche pursuit in the UK. Up until 2009, the best-selling electric 'car' in the UK was the G-Wiz, but its poor quality, short range and lack of safety meant it was basic to say the least.
It's fair to say that the Nissan Leaf transformed the electric car market when it arrived in 2010. Its conventional hatchback looks are appealing, while it has just enough of a hi-tech look to let people know about its electric drive system. The updated Mk2 arrived in 2018 with a bigger battery for a longer range, plus a variety of useful driver assist systems.
The nose features a flap which covers the charging socket, but apart from that and some Zero Emissions badges and a lack of exhaust, the Leaf looks like any other five-door hatchback. Step inside, and there's room for five, while the dashboard features a hi-tech display to help you monitor the electric range.
Nissan has given the Leaf constant updates over its life, and as battery technology has progressed, so the car's range has grown. The latest car has a claimed range of around 215 miles, so you'd be able to travel 150 miles without recharging pretty easily - you wouldn't even need to employ energy-saving techniques to achieve this.
Best green cars 2019
1. BMW i3
2. Toyota Prius
6. Nissan Leaf
10. Hyundai Ioniq