UK's best-known electric cars revealed in DrivingElectric survey
Nissan Leaf crowned UK's best-known electric car in survey according to expert EV site DrivingElectric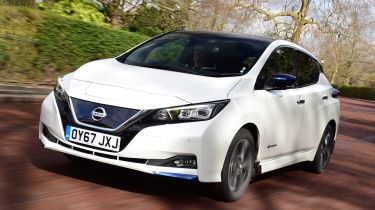 The Nissan Leaf has been identified as the best-known electric car in the UK, according to a survey of readers from Auto Express sister site DrivingElectric.
With over 700 people taking part, the Leaf – which appeared on our roads in 2010 – was recognised by 94 per cent of responders. The Tesla Model S saloon and Jaguar I-Pace SUV finished a close second and third with 93 per cent and 89 per cent recognition respectively.
At the other end of the spectrum, the likes of the small Honda e hatchback (68 per cent), Mercedes EQC SUV (55 per cent) and Smart EQ ForTwo city car (45 per cent) fared worst as the least-recognised electric vehicles.
Meanwhile, Tesla was ranked as the most innovative electric carmaker, with those surveyed by DrivingElectric also saying the brand was doing more than any other to drive electric-car adoption on these shores.
Its line-up consists of the Model 3 and Model S saloons and Model X SUV, with all three cars offering more range to a single charge than any other electric production vehicle currently on sale.
It also has its own network of public rapid-charging stations, around 300 of which are located in the UK. Exclusive to Tesla owners, the fastest of these will charge cars at 250kW, at which rate you could add 75 miles of range in as little as five minutes.
Elsewhere, the survey also asked respondents to rank the most visually appealing electric cars. Jaguar – whose sole electric vehicle is the I-Pace – was voted best in this category, followed by Tesla, BMW and Audi.
Launched in 2018, DrivingElectric is the UK's number one consumer source for all-things electric and plug-in hybrid vehicles, available both online and in print form.
Richard Ingram, editor of DrivingElectric said: "The survey shows that brands that have been selling electric cars for the longest are the ones that buyers are most aware of.
"But with the market now offering such a great array of fantastic plug-in models, it's more important than ever that consumers do their research on DrivingElectric.com – and consider those models that might not be household names."
Do you agree with the results of the DrivingElectric survey? Read the full results below, and then have your say in the comments section…
Electric car model awareness
Nissan Leaf (94%)
Tesla Model S (93%)
Jaguar I-Pace (89%)
Tesla Model X (88%)
BMW i3 (86%)
MINI Electric (85%)
Volkswagen e-Golf (85%)
Hyundai Kona Electric (81%)
Renault ZOE (81%)
 Audi e-tron (81%)
 Vauxhall Corsa-e (79%)
 Volkswagen e-up! (77%)
 Peugeot e-208 (71%)
 Honda e (68%)
 Mercedes EQC (55%)
 Smart EQ ForTwo (45%)
Brands leading electric-car adoption in the UK
Tesla
Nissan
Jaguar
BMW
Renault
Hyundai
Kia
Volkswagen
Audi
Volvo
Brands producing the most innovative electric cars
Tesla
Jaguar
BMW
Nissan
Hyundai
Kia
Volkswagen
Renault
Audi
Honda
Brands producing the most visually appealing electric cars
Jaguar
Tesla
BMW
Audi
Mercedes
Volvo
Volkswagen
Peugeot
Hyundai
Kia