Used Nissan Leaf (Mk1, 2011-2018) review
The pioneering Nissan Leaf brings EV motoring to the masses, although this early electric adopter isn't without its flaws
Verdict
Electric cars are now such a regular sight on UK roads that you'd be forgiven for forgetting the Nissan Leaf only went on sale a mere 10 years ago. The original Leaf was a groundbreaking car for Nissan, and used examples now make for a low-priced entry to EV motoring for those looking to make the switch from petrol or diesel.
The Leaf brought EV motoring to the masses and it therefore blazed a trail. The earliest cars may now seem somewhat outdated in terms of their charging times and range, making the original Leaf seem uncompetitive compared with more modern rivals, but don't write it off too readily because it can still make lots of sense.
Which one should I buy?
Best Nissan Leaf for range: Acenta+
Best Nissan Leaf for equipment: Tekna
The first-generation Nissan Leaf arrived in the UK in March 2011, a few months after making its debut in the US and Japan. All models had an 80kW (107bhp) electric motor and a 24kWh battery pack with just one trim level. These first Leafs were built in Japan and their official range was 109 miles.
In March 2013 a British-built Leaf was introduced and the range grew to three trim levels (Visia, Acenta and Tekna, with a Visia+ model arriving soon after). Software tweaks allowed a fast-charge (6.6kW) option along with an increase in range to 124 miles.
In July 2015 a fifth trim level (the Acenta+) appeared, with a standard fast charger. Two months later a 30kWh battery pack became available to increase the range to 155 miles, although the original 24kWh battery was still offered.
After selling more than half a million cars, Nissan ended production of the Leaf MK1 in 2017 to make way for the all-new MK2 model.
Some early Leafs have a leased battery pack; such cars are significantly cheaper to buy because you pay a separate monthly fee for the battery, but these cars are rare, and it's possible to pay off the lease so you own the batteries. However, you'll then be liable for any costs in the event of failure.
Initially, only one trim was available, which came with sat-nav, climate control and 16-inch alloys.
The range expanded in March 2013 to three trim levels. The base-level Visia was pretty well equipped with all-round electric windows, climate control, power mirrors and Bluetooth, but it didn't offer fast charging (6.6kW) or an infotainment screen. The Visia+ upgrade added alloys, privacy glass and cruise control.
We'd recommend opting for at least the mid-range Acenta trim because this includes the fast-charging facility, a more sophisticated infotainment system, a rear-view camera and automatic lights and wipers. If you want to go all-out, the range-topping Tekna adds leather, 17-inch wheels and a Bose hi-fi, plus heating for the seats and door mirrors.
What are the alternatives?
For years the Leaf had the electric car market to itself, which is why there's not much else available for the same sort of money as an early example. However, the Renault Zoe is another cracking small hatch that's very practical, although it is smaller than the Leaf. There are loads to choose from and prices start at just £7,000 or so.
The BMW i3 is a much more premium car with an impressive design, and there are a lot more around than you might think, but prices start at around £14,000. Some i3s are actually range-extender models, with a small petrol engine that can add range to the battery, so be sure to double-check which version is being sold.
Nissan Leaf vs VW Golf vs Toyota Auris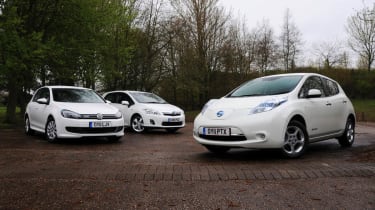 With no natural EV rivals, the Leaf instead faced some eco-friendly ICE contenders for its first group test in April 2011. The Nissan's smooth power delivery and low running costs saw it beat the hybrid Auris, but it couldn't match the brilliant Golf Bluemotion's all round ability. Read the full test...
Nissan Leaf vs Renault Fluence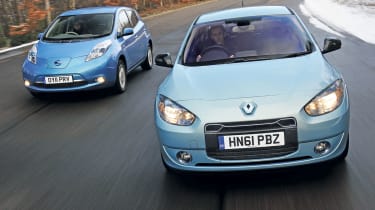 It was a case of sibling rivalry in this March 2012 encounter, when the Leaf squared up to the closely related Fluence. In the final reckoning the Renault's bland style and cramped boot meant that it finished a distant second to the more stylish and better packaged Nissan. Read the full test...
Nissan Leaf vs BMW i3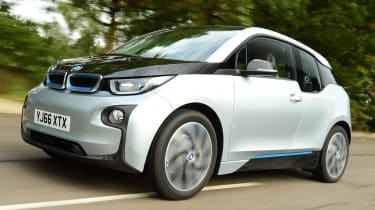 The Leaf faced its toughest test in July 2014, when it took on the new i3. With its roomy interior, attractive pricing and generous kit, the Nissan proved a stern opponent. Yet in the final reckoning, the BMW's driver appeal, strong performance and classy interior gave it the win. Read the full test...