Used Nissan Leaf (Mk1, 2011-2018) review - How much will it cost?
It's doesn't cost as much to buy as rivals, plus the Nissan will cost peanuts to run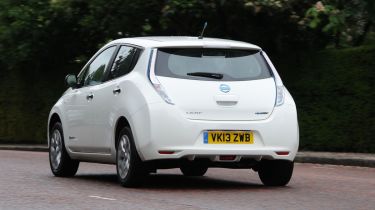 When it was new the Leaf often cost more to buy than similar-era ICE competition, even with a Government grant. However, heavy depreciation means it's one of the most affordable used EV buys. Factor in the low cost of charging and maintenance, and few family cars will make such a small dent in your wallet.
Prices
When it was new, the Leaf was the only mainstream EV family car in the game, which meant that it was viewed with a little bit of suspicion by used buyers. As a result, depreciation was steep, with most losing around two-thirds of their new value after three years. For comparison, a VW Golf retained about half its value over the same period.
However, as EVs have hit the mainstream over the last few years, demand for the Nissan has increased and prices have hardened. That said, it's still one of the best value second hand electric cars out there, and with so many to choose from there should be a Leaf to suit every taste and budget.
Fuel economy and CO2 emissions
The Nissan Leaf should be very economical to run day-to-day as it doesn't need liquid fuel, and exhaust emissions are zero so you won't pay any road tax. The Leaf can even be a genuinely zero-emissions car if you charge it from a green power source.
At its launch in 2010, the Leaf offered a range of 124 miles, but the 30kWh increased this to a more real-world-friendly 155 miles.
A full battery charge should cost as little as £5, but Nissan claims that the annual cost of keeping it charged for average usage patterns will be £500 (depending on your tariff and at what times you plug it in).
The reason it's so cheap to run, of course, is that most drivers will not completely discharge the car each day and so will only have to top it up. The claimed maximum range on a full charge is 124 miles (155 for the 30kWh model), but even if you have the lights, heating and the wipers on you should still have a comfortable cushion for daily commutes of as much as 30 miles each way.
If you're 'caught short', you can plug into one of the increasing numbers of public charge points and gain an 80 per cent charge in just 30 minutes.
One thing to be aware of is the fact Nissan offered owners the opportunity to either own the battery outright with the car, or to lease the lithium-ion pack separately. Double check the paperwork of any used purchase so you're not hit with an unexpected monthly bill.
Running costs
One of the things that buyers were promised with the arrival of electric cars was rock-bottom servicing costs. After all, with no spark plugs, fuel filters, cambelts and so on, an electric car has very few parts that actually need replacing, aside from the brakes.
Despite this, some scheduled maintenance costs for the Leaf – as with many other EVs – are on par with more conventional cars. Crucially, though, as the car's mileage builds up, the servicing costs don't shoot up as they often do with combustion-powered cars. So, not only will the Leaf's maintenance costs seem surprisingly steep in the short term, but they also shouldn't increase as the car ages.
The Leaf's service interval is set at every 12 months or 12,000 miles, with services alternating between minor and major at a cost of £159 and £209 respectively; the latter includes fresh brake fluid, which is required every two years. A number of Nissan dealers are also including a year's RAC breakdown cover with all services.
All Leafs were sold with a three-year/60,000-mile warranty, but for an extra cost the cover could be extended to five years, which means even the latest examples will have only a few months of guarantee left to run.
Five-year cover was included as standard on the battery, however, which means the youngest cars will still be under warranty. Better still, those with leased batteries get a fresh top-up of cover each time a new pack is needed. To trigger a claim for replacement cells, only nine of the 12 charge status lights have to illuminate on the dashboard after a full charge, indicating the capacity has dropped below 75 per cent.
The insurance industry has put the Leaf into a fairly high range for insurance – its group 23 or 24 depending on model, which is higher than the 15/16 ratings for Renault's Zoe and the BMW i3's group 21 rating.