Volvo XC60 T8 - best low emissions green cars
The Volvo XC90 T8 Twin Engine combines an electric motor, plug-in battery and 2.0-litre petrol engine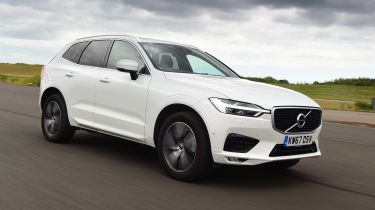 Here's proof that low emissions green cars don't have to sacrifice style. The T8 Twin Engine version of the Volvo XC60 shares the same running gear as the XC90 Twin Engine, so features a 2.0-litre petrol engine, an electric motor and plug-in battery pack to deliver low emissions, but it retains a stylish five-seat interior with plenty of space and upmarket touches.
From the outside, only the T8 badge on the tail and the charging flap on the side of the XC60 give you a clue that there is a hybrid drivetrain under the skin. It's the same story inside, because cabin space is the same as you'll find in conventional versions of the XC60.
That's because Volvo has inserted the hybrid system and large battery pack under the car's floor next to the smaller fuel tank, the idea being that the electric range will make up for the shortfall in range when using the petrol engine. Volvo claims that a full charge results in a range of around 25 miles in full electric mode, although it's better to stick the car in hybrid mode and let the electronics take care of the energy flow between engine, battery and road.
Emissions of 52g/km are on a par with the Toyota Yaris hybrid, while claimed economy is 128.5mpg, although as with any other plug-in hybrid, how close you get to that will depend on how often you are able to plug the car in to charge it up. 
One bonus of the T8's Twin Engine hybrid drive is that it delivers surprisingly rapid performance. Volvo quotes a 0-62mph time of 4.9 seconds, which is faintly ridiculous in such a large and weighty SUV. It doesn't feel fast to drive, instead offering a comfortable and spacious interior with fantastic quality and design.
Best green cars 2019