Vauxhall Astra 1.6 CDTi ecoFLEX - best low emissions green cars
The Vauxhall Astra 1.6 CDTi ecoFLEX offers cheap running costs and low emissions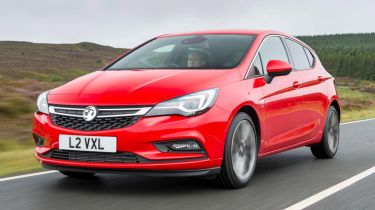 Here's proof that you don't need to compromise on family-friendly usability to get a green car with low emissions. The Vauxhall Astra is a former winner of our compact hatchback class at the New Car Awards, and its talents are just as accomplished in low-emissions ecoFLEX guise as they are in the rest of the range.
Vauxhall's ecoFLEX technologies are designed to boost efficiency, while the firm's latest Whisper Diesel 1.6 CDTi is, as its name suggests, a quiet and refined engine. It uses aluminium construction to save weight, while direct injection and an advanced electronic control unit manage the engine's combustion for optimum efficiency. What makes the Whisper Diesel so quiet is the use of acoustic covers in the engine bay, which help to surpress the diesel's rattle and boost refinement.
Not only is the engine quiet, it's also very efficient. The claimed economy for the 109bhp 1.6 CDTi ecoFLEX with stop-start is as low as 85.6mpg, while emissions of 88g/km mean the Astra is currently road tax exempt, too. And if you need more space than the hatchback offers you, then the engine is offered in the Sports Tourer estate, too. This has a premium of around £1,300 and claimed economy starts from 83.1mpg, while emissions rise slightly over the hatch to 89g/km.
Whichever version you choose, the Astra with the Whisper Diesel is a great family car. There's enough power to cope with a full load of passengers, and that quiet engine and slick six-speed gearbox mean the Astra's a quiet and refined cruiser. Even better is that the Astra is a decent drive in corners, with engaging handling designed to put a smile on your face. And with prices ranging from just over £18,000 to just over £22,000, there's an efficient Astra for just about every occasion.
Best green cars 2019