Jaguar I-Pace - best low emissions green cars
The I-Pace electric SUV puts Jaguar in the driving seat of efficient yet upmarket motoring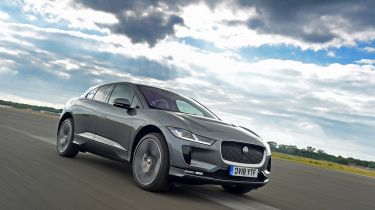 One better than low emissions is zero emissions, and the Jaguar I-Pace offers this in a hi-tech package that sets new standards for electric vehicles in terms of performance, handling and luxury. Is this an overstatement? We don't think so, as we named the I-Pace our 2018 Car Of The Year, and it looks set to forge ahead as the class benchmark, as it's a far better car than the Tesla Model X, and has arrived before rivals from Audi and others have even been officially revealed.
The I-Pace features four-wheel drive, courtesy of two electric motors, and a low-slung battery pack, which helps the Jaguar SUV handle well, while the layout also delivers lots of passenger space inside the hi-tech cabin.
Performance isn't as outrageous as a Tesla's, but nobody's going to feel short-changed by a 0-62mph time of 4.2 seconds. And besides, the I-Pace handles a lot more tidily than a Model X.
Charging times can be as short as 40 minutes on the right socket, although a fully flat battery takes 12 hours to charge on a standard three-pin plug. But that's a price many will be willing to put up with for zero-emissions driving in one of the most desirable new cars currently on sale.
Best green cars 2019