Toyota Prius - best low emissions green cars
Toyota's Prius is the car that popularised hybrid technology and the latest model shows how far it's come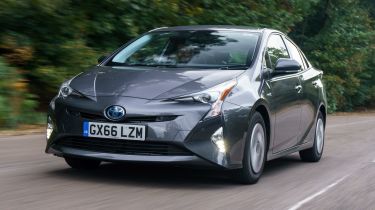 Think of a hybrid, and the Toyota Prius will immediately come to mind. This low emissions green machine is a petrol-electric pioneer that has evolved and improved ever since it first arrived in 1997. Nearly 20 years on, and the Prius Mk4 is the best yet, both for low emissions and driving ability.
There's no doubt that the Prius and i3 at least have divisive looks in common. The Toyota's low-slung body is a world away from the i3, though, and the futuristic lines and sharply truncated tail are designed to help the Prius cut cleanly through the air. It's equally radical inside, with a centrally mounted digital dashboard and plenty of gloss white plastic trim, while the low-slung driving position feels quite sporty.
Under the skin, the Prius has a drive system that has been developed to deliver low emissions, but it's more user-friendly than ever in the Mk4. Over the years, the petrol-electric Hybrid Synergy Drive set-up has been developed and improved, and the current model is the most efficient yet. Go for an entry-level car on smaller wheels, and you get CO2 emissions of 70g/km and claimed economy of 94.2mpg.
Even better is that you don't have to plug the Prius in to get near this figure. Choose a higher spec car, and those figures are 76g/km and 86mpg, which is still pretty good. To really cut your costs, the Prius Plug-in returns emissions of 49g/km and economy of 134.5mpg. How close you get to that will depend on how often you plug it in, although it should return as much as the regular Prius if you don't.
Even better is the fact that the Prius is a good car to drive. The latest car's new chassis will be used on a number of new models, and its sharp responses mean the latest Prius is more enjoyable to drive than ever, which is something you could never have said of its predecessors. And because the Prius is designed around its hybrid drive system, there are no compromises when it comes to practicality for the five-seat cabin.
Best green cars 2019
1. BMW i3
2. Toyota Prius
6. Nissan Leaf
10. Hyundai Ioniq