Hyundai Ioniq - best low emissions green cars
Whether you want an EV, plug-in or hybrid, the Hyundai Ioniq has all bases covered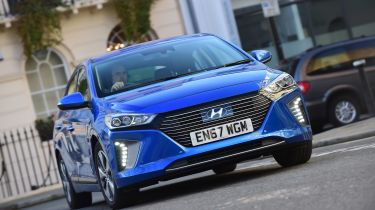 While some car makers have put all their eggs in one basket by choosing either hybrid, plug-in or EV options for their low-emissions models, Hyundai has gone for a three-pronged approach with the Ioniq. It's available as a petrol-electric hybrid, a plug-in with extra range or a pure EV.
With this three-pronged approach, the Ioniq takes on Japan's two green pioneers, the Toyota Prius and the Nissan Leaf.
The hybrid versions feature a 1.6-litre petrol engine with electric motor and battery pack, while the plug-in version can travel a claimed 30 miles on electric power alone. These figures aren't quite as good as the Prius, but when you consider the longer development period the Japanese car has had, it makes the Ioniq's figures all the more impressive.
The EV version is bigger than the Nissan, so there's more space inside, while the big battery gives the Ioniq EV a claimed range of over 170 miles, which isn't quite on a par with the Leaf, but still reasonable. Power comes from a 118bhp electric motor, making it the least powerful of the three Ioniqs, but with instant torque from a standstill, it's the fastest to accelerate, although a 0-62mph time just under 10 seconds is hardly Tesla-esque.
Where the Ioniq excels is with its comfort. It's quiet and refined, whichever version you choose, and is a perfect cruiser around town with plenty of standard kit on board.
Best green cars 2019