Best concept cars at Geneva Motor Show 2014
We scoured the Geneva Motor Show stands to bring you the ten best concept cars of the 2014 event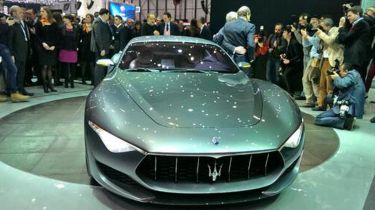 The Geneva Motor Show 2014 was packed full of important new models like the new Audi TT and the Ford Focus facelift. But there were plenty of exciting concept cars on show, too, previewing the kind of cars you'll be seeing on the road in a couple of years. Below, we round up our top ten.
Honda Civic Type R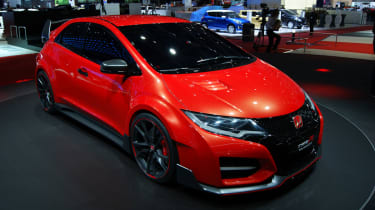 Definitely one of the boldest concepts at Geneva, and Honda's designers are promising us the production version of the Civic Type R will look just as radical. It's set to arrive late next year, powered by a 2.0-litre turbo engine and with a £30,000 price-tag to match its main rivals – the Golf R and Astra VXR. 
• Read the full story on the Honda Civic Type-R 
Maserati Alfieri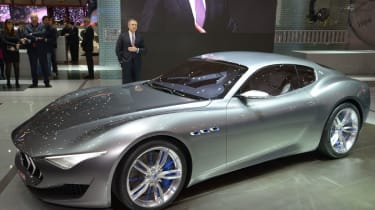 This concept is Maserati at its best; producing desirable sports cars that look as good as they sound. It may just be a concept for now but all the signs are pointing to the Alfieri becoming a part of the Maserati line up in less than two years. It's not intended as a replacement for the GranTurismo but as a model in its own right. The concept is based on a shortened GranTurismo platform and is powered by a 4.7-litre V8.
• Read the full story on the Maserati Alfieri
Mazda Hazumi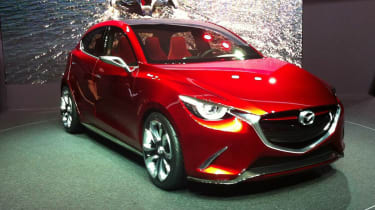 Mazda has a habit of revealing concept cars that look a lot like the final production models, and the Hazumi is a direct preview of the Mazda 2. It's promising a longer wheelbase than the Ford Fiesta and more cabin space as a result. There's new infotainment tech in the cabin and a new 1.5-litre SkyActi diesel under the bonnet, promising less than 90g/km of CO2.
• Read the full story on the Mazda Hazumi
Nissan BladeGlider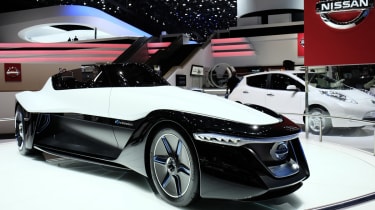 This one actually debuted at the Tokyo Motor Show last year but it's such a fresh idea that it had to be in our top ten. The narrow front track is inspired by the Deltawing racing car, and Nissan has every intention of bringin this concept to reality. One of Nissan's bosses even told us they've got prototypes up and running, using Ariel Atoms with a really narrow front track.
• Geneva Motor Show 2014 round-up
Volkswagen T-ROC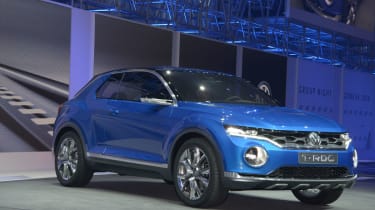 The radically styled T-ROC concept previews a future Juke-rivalling SUV from Volkswagen. Bosses told us that it's almost a certainty for production, sitting just below the Tiguan and above the forthcoming up!-based Taigun SUV. It uses the same MQB platform that sits underneath the Golf and is powered by the Golf GTD's 181bhp 2.0-litre diesel. It also comes with removable roof panels so you can turn it in to a kind of convertible.
• Read the full story on the Volkswagen T-ROC
Audi TT quattro sport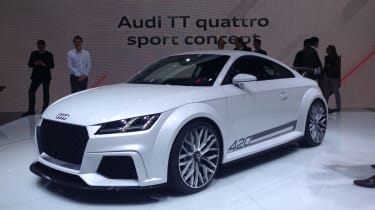 As well as the all-new TT and TTS, Audi also showcased a TT quattro sport concept boasting a 414bhp 2.0-litre turbo and a stripped out interior. The best news about this concept is that Audi bosses see the potential in it as a homologated racer for the road. Don't expect it to wear the RS badge, though, as Audi is reserving that for a model powered by a development of the five-cylinder engine used in the current car.
• Read the full story on the Audi TT quattro sport
Infiniti Q50 Eau Rouge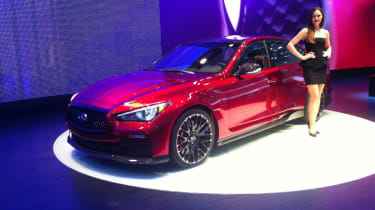 This concept didn't debut in Geneva but it was the first time Infiniti had revealed details on the engine that sits underneath the high performance Eau Rouge saloon's bonnet. Infiniti has turned to parent company Nissan, borrowing a 560bhp 3.8-litre twin-turbo V6 from the GT-R. Power is delivered to all four wheels and Infiniti claims it will be able to sprint from 0-62mph in less than four seconds and on to a top speed of 180mph.
• Read the full story on the Infiniti Q50 Eau Rouge
Hyundai Intrado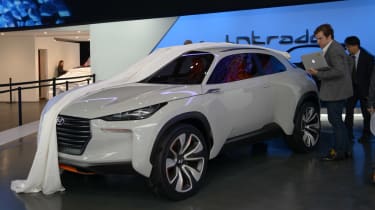 The Intrado is a significant concept because it's the first car designed by Peter Schreyer – the man who made Kias cool. Hyundai is saying it doesn't preview any particular future production model, just Hyundai's future styling. However, a sporty compact SUV isn't a particularly far-fetched idea for a future model. The fuel cell powertrain and carbon fibre construction are a little harder to believe, though.
• Read the full story on the Hyundai Intrado
Giugiaro Clipper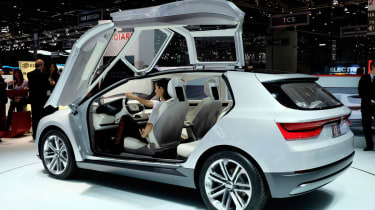 This six-seater MPV is based on VW Group's MQB platform and has been styled by VW-owned Italdesign Giugiaro. Its clean design worth mentioning but more noteworthy is the powertrain – two 148bhp electric motors providing a top speed of 127mph and a 335-mile range.
• Geneva Motor Show 2014 round-up
MINI Clubman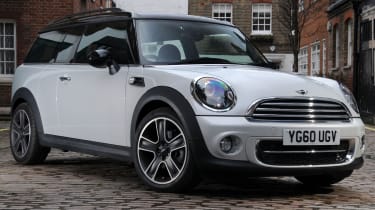 MINI makes no secret of the fact that it's going to introduce a new Clubman early next year, and this Geneva concept is our first taste of what to expect. Gone is the awkward asymmetrical Clubdoor, replaced by a traditional four-door layour. Then, of course, you still have the two small barn doors on the boot. MINI sees the Clubman now as a proper estate, counting models like the Golf Estate among its rivals.