Deal of the Day: Smash hit Nissan Qashqai is yours for under £200 per month
Our Deal of the Day for 10 November is the Nissan Qashqai with oodles of practicality for less than £200 per month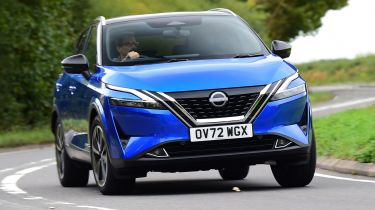 £199 a month
Ideal for families
Well-equipped
For under £200 a month you can put on one of Britain's best-selling cars, the Nissan Qashqai, on your driveway and find out why the current third-generation model is just so popular.
We found this deal on the website of Shropshire-based leasing company Central Vehicle Leasing. A personal contract hire agreement, it requires an initial payment of £2,400 and then £199 per month over three years with an annual mileage limit of 5,000. Bump that figure up to 8,000 miles and it's only £12 extra a month so there's some sensible flexibility to be had here.  
This is a fixed-term personal contract hire deal, so you'll never have the opportunity to own the Qashqai and you won't be able to put any of the equity left in it after two years towards your next vehicle. Even so, if you're happy with giving up that bit of flexibility, it offers plenty of savings compared with Nissan's own finance deals. For personal buyers, Nissan currently doesn't offer a standard personal contract hire plan, rather a 'subscription' from £645 per month over two years.   
In Acenta trim, this Qashqai is well-equipped with an eight-inch touchscreen and seven-inch driver's display, Android Auto and Apple CarPlay connectivity and electric lumbar support in the seats. The Qashqai is an ideal family SUV too with plenty of convenient storage compartments dotted around the cabin and a decent boot as well. 
As always with our Deal of the Day selections, prices and offers are subject to change, while terms and conditions apply. Our experts scour the market for the best deals on cars that we're happy to recommend, choosing only the ones that we think offer the best value.
To get today's Deal of the Day click here or take a look at yesterday's deal…