'The Land Rover Defender and Aston Martin DBX must be front runners for World Car Design of the Year'
Mike Rutherford thinks cars from Gerry McGovern and Marek Reichman are favourites to win design award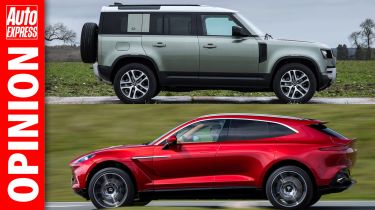 The greatest car designer? In 2016 it was Ikuo Maeda with his latest Mazda MX-5. Twelve months later, Ian Callum (Jaguar F-Pace) inherited the crown, followed by Gerry McGovern (Range Rover Velar), then Callum again in 2019 (Jaguar I-Pace). Now, in 2020, Maeda's done it again thanks to the Mazda 3.
Who says this trio are best of the best, 2016-2020? Only a select group of legendary designers – Professor Gordon Murray, Shiro Nakamura and Patrick le Quément included. They're official World Car Awards design gurus. And it's they (in conjunction with WCA's circa 90 jurors across the globe), who effectively voted Maeda and Callum joint No. 1, with McGovern runner-up. Maeda (plus right-hand man Yasutake Tsuchida) was scheduled to collect the 2020 World Car Design of the Year award for the Mazda 3 at the New York Auto Show in April. Covid-19 prevented that, so the trophy was presented to him at his Hiroshima studio last week.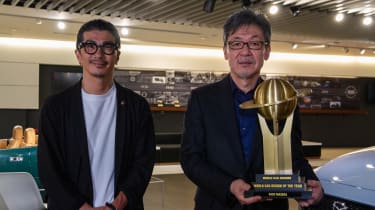 Among other things, I asked Maeda on the day how a relatively small, low-volume, tiny-profit brand like Mazda somehow produces so many great designs – from a humble studio with an inevitably minuscule budget? His convincing response was that financial restrictions shouldn't, and don't, affect the quality and elegance of Mazda's 'less is more' designs. 
"Having said that, if I can somehow get a bigger budget for my department, I would LOVE to design a car that has a price tag of over 10 million Yen," he confided in me. That's $100,000 (£76,000) plus – which is nudging entry-level Porsche 911 territory.  
I reckon a high-end Mazda-badged sports car created by Maeda would look sharper than the current, bog-standard 911 – which is starting to look a little long in the tooth, no? 
When Auto Express editor-in-chief Steve Fowler later grabbed a quiet word with Maeda, he was more intrigued by the less-expensive end of the Mazda product range. Both agreed the pandemic is increasing the desire among consumers to invest in small, personal, sustainable, but still luxurious personal mobility machines. So might we soon see a Mazda 1 EV to compete with the brilliant Citroen Ami? Always respectful and understandably reluctant to give away too many future product secrets, Maeda replied: "Cars will become more and more compact. Also more natural – merging into the natural environment rather than breaking it. This pandemic gave us a lesson: take good care of nature and human beings. Designers should learn the same sort of lessons."
Put another way, Mazda's design chief would neither confirm nor deny a Mazda 1 was on the cards. But he and Tsuchida did freely confess they admire Volvo's current designs. Fingers crossed the Chinese-owned Swedish firm doesn't tempt the pair away from Mazda.
I also hope that Marek Reichman's Aston Martin DBX, and the Land Rover Defender by Gerry McGovern will be among the favourites to win the imminent 2021 World Car Design of the Year competition. They richly deserve to be in the running. And not just because both men and both cars are proudly British-born, raised and resident.
Partnership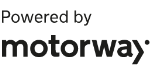 Need to sell your car?
Find your best offer from over 5,000+ dealers. It's that easy.
Check out our drive of the new Aston Martin DBX here...