Polestar to launch three new electric cars by 2024
Polestar 3 to make its debut next year, followed by the Polestar 4 coupe-SUV in 2023 and the Polestar 5 saloon in 2024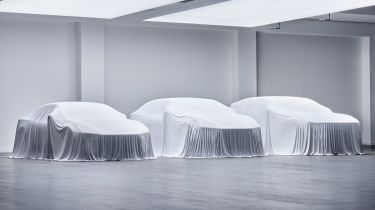 Polestar CEO Thomas Ingenlath has confirmed the brand will launch three new electric cars within the next three years, detailing the names of the as yet unseen Polestar 4 electric SUV and the Polestar 5.
The first of the trio will be the Polestar 3 SUV, which will make its debut next year as the Swedish brand's answer to the Tesla Model X and Audi e-tron. 
According to Ingenlath's comments on an investor call, the Polestar 3 will be priced to compete with the Porsche Cayenne, which would give it a starting price of around £60,000.
In 2023, we'll see the new Polestar 4. It's the car in the middle of the company's teaser image above, and Ingenlath highlighted that this new EV will be a "sporty coupe-SUV" positioned below the Polestar 3. It'll rival the likes of the next-generation Porsche Macan EV.
The Polestar 5 will be unveiled in 2024, with the first examples set to hit the road in 2025. This low-slung saloon will rival the Tesla Model S and Porsche Taycan, with the production version evolving from the Polestar Precept saloon concept, which previews the car's styling.
Polestar's CEO outlined that "We will see one car per year for the next three years, something not seen from other EV start-ups. These cars are designed and ready to go."
Ingenlath further outlined Polestar's range pricing, highlighting that "the Polestar 1 defines the upper price point for the brand, with the Polestar 2 representing the entry point." These vehicles range from £139,000 for the 1, to £39,900 for the most affordable Polestar 2 variant. 
We expect the Polestar 4 coupe-SUV will be based on the same SPA2 underpinnings as the Polestar 3, as the platform has been designed to cater for both sister company Volvo and Polestar's mid-size and flagship vehicles. 
To give an indication of the vehicle sizes the platform can accommodate, SPA2 will also be used to prop up both the next-generation versions of the Volvo S60 (which is the company's BMW 3 Series rival) and the Volvo S90 (the firm's 5 Series competitor).
Like the Polestar 3, this new electric SUV will probably receive a dual-motor powertrain and a battery large enough to support a maximum range of around 300 miles.
Financing the new models will be driven by a new deal between Volvo and parent company Geely which will see the firm listed publicly on the Nasdaq stock exchange, with Volvo retaining 50 per cent ownership of the new traded company called Polestar Automotive Holding UK, valued at $20bn (roughly £14.6bn). Under the new business structure, the company will plot an aggressive strategy to increase global sales from around 10,000 cars per year at present, to 290,000 a year by 2025. 
Now click here to read our in-depth review of the new Polestar 2....