Porsche Passport gives US customers access to the Porsche of their choice on-demand
Starting from $2,000 a month, Porsche Passport users can gain on-demand access for up to 22 Porsche models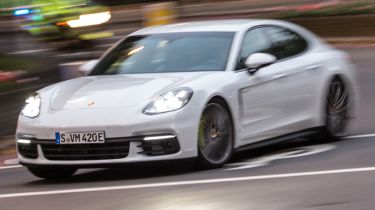 Porsche has launched a monthly subscription service in North America called Porsche Passport, which provides members on-demand access for up to 22 different Porsche models.
Starting from $2,000 (£1,515), Porsche Passport users can drive a Porsche of their choosing, which is then delivered to their door. There are two membership plans available: 'Launch', which includes on-demand access to eight model variants such as the Boxster, Cayman S, Macan S and Cayenne for a monthly fee of $2,000.
The 'Accelerate' membership plan costs $3,000 (£2,270) a month and gives users access to 22 different Porsche variants such as the 911 Carrera S, Panamera 4S, Macan GTS and Cayenne S E-Hybrid in addition to vehicles included in the Launch subscription package.
Currently, the subscription service is being piloted in Atlanta, Georgia where Porsche North America is based. The membership plan includes vehicle registration, tax, insurance and maintenance.
Users have to sign up via the Porsche Passport app developed by Clutch Technologies, which is available on Apple and Android devices. A one-time activation fee of $500 is required while membership is dependant on a credit and background check. Once approved, Porsche Passport users in the Atlanta metro can gain access to the Porsche range from next month.
The subscription programme is still in its infancy and is currently exclusive to Atlanta, Georgia. After the pilot programme, both Porsche and Clutch Technologies will determine whether or not to expand Porsche Passport to further locations in North America and potentially in Europe.
Would you consider a service like Porsche Passport if it came to the UK? Tell us in the comments...