Qoros scales up with '2 SUV' concept heading to Shanghai
Qoros has released a teaser sketch previewing the '2 SUV' crossover concept set to star at the Shanghai Motor Show 2015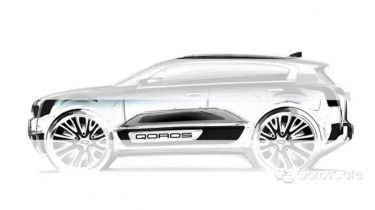 Qoros won't be a name familiar to many European motorists, but the Chinese company is planning to make an impact globally in the near future. The 3 hatchback and 3 City SUV have already been announced, but also planned is this Qoros 2 small crossover concept that we'll be seeing at the Shanghai Motor Show later this month.
The Shanghai-based car brand (founded in 2007) is ramping up its operations in the next few years, with the first Qoros models appearing in Europe by around 2017. Teased in this design sketch before the concept's unveiling, the third model in Qoros' lineup is described as a 'sub-compact SUV' and is marginally smaller than the Nissan Qashqai-rivalling 3 City SUV.
Design cues appear to have been borrowed from several existing models, such as the side window line from the current Kia Sportage and boomerang headlights similar to those found on the Ssangyong Tivoli. The company cites "striking new German-inspired styling"; the vice-president of design is Gert Hildebrand and it was styled by Munich and Shanghai-based teams. But it's clearly inspired by cars across the market.
It has been "conceived to appeal to young, efficiency conscious metropolitan customers", suggesting hybrid powertrains could be the on the horizon. Yet the oversized wheels in the sketch hint at a sporty side, possibly targeting the Nissan Juke Nismo RS.
A 1.8-litre turbo petrol engine is also set to appear on the concept, hinting at a direct rivalry with the hot Japanese SUV. Inside Qoros claims a 'QorosQloud' smartphone connectivity platform can be accessed via a central touchscreen, and the driving position is "semi-command".
The new model is predicted to debut in China towards the end of 2015, but there is no word on European production as yet. With our crossover market booming, however, we'd be surprised if it didn't make it over here before the end of the decade.
Can't wait for the Qoros? Check out our 10 favourite SUVs on sale now...