New Renault Clio welcomes back petrol power for a £3,500 price cut
Renault's heavily facelifted supermini is now available with a petrol engine and six-speed manual gearbox, in addition to the E-Tech hybrid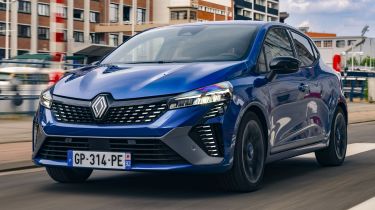 The Renault Clio is available once again with a non-hybrid petrol engine, bringing the heavily facelifted supermini's starting price down to £17,795 – a £3,500 drop from when it was initially offered exclusively with a full-hybrid powertrain.
Some well established cars like the Honda Civic and Toyota Corolla are now hybrid-only, but in a statement to Auto Express, Renault said that the pure-petrol Clio has remained "in order to meet the needs of some customers in a difficult economic climate."
The entry-level Clio TCe 90 uses Renault's familiar turbocharged 1.0-litre three-cylinder petrol engine that can also be found under the bonnet of its distant cousin, the Dacia Sandero – our reigning Supermini of the Year. In the Clio, the three-pot motor comes paired with a six-speed manual gearbox, and produces 89bhp and 160Nm of torque. CO2 emissions range from 118 to 120g/km and this Clio can average up to 54.3mpg on the WLTP combined cycle.
When the facelifted Clio launched in August the sole engine option was an E-Tech hybrid powertrain. It uses a 1.6-litre four-cylinder petrol engine, working together with two electric motors – one driving the wheels, the other to help fire up the engine. The e-motors are fed by a tiny 1.2kWh battery that allows the Clio E-Tech to run purely on electricity for short distances. 
Combined power output for the Clio E-Tech is 143bhp, with up to 205Nm of torque available when you're running on the electric motor. Renault claims the hybrid supermini will return up to 67.3mpg on average and emits 96-97g/km of CO2. 
The Clio's new starting price has allowed it undercut key rivals such as the Skoda Fabia, Vauxhall Corsa, Peugeot 208 and Toyota Yaris. The petrol Clio also offers more boot space than the electrified version. Without a battery to accommodate, the regular Clio boasts a class-leading 391 litres of space, compared to the E-Tech's 301-litre load bay. 
Both the petrol and hybrid engines are offered in three trim levels: Evolution, Techno and Esprit Alpine. Entry-level cars get 16-inch alloy wheels, rear parking sensors and a seven-inch digital instrument panel, seven-inch touchscreen, Apple CarPlay and Android Auto smartphone connectivity, LED headlights and active safety systems including lane-keep assist and lane departure warning.
Upgrading to Techno trim adds £1,400 to the price, but gets you a sharper-looking front bumper, a reversing camera, front parking sensors, wireless charging pad for your smartphone, biobased upholstery and larger 17-inch alloy wheels. Range-topping Esprit Alpine cars cost a further £1,400, but feature a larger 10-inch digital driver's display, a 9.3-inch central touchscreen, aluminium pedals, heated front seats and steering wheel, blind spot warning and adaptive cruise control, plus 17-inch diamond cut rims and a grey F1 blade on the front bumper.
We recently learned that development of the next-generation Renault Clio is underway, and while the Megane and Scenic are now all-electric, the current Clio will be sticking with petrol engines and hybrid power for a good while longer.
Want the latest car news in your inbox? Sign up to the free Auto Express email newsletter...