Deal of the Day: a super-low £44 a month for the Renault Arkana coupe SUV
An ultra-low PCP rate on the Renault Arkana is our Deal of the Day for November 17. You do, however, need a very chunky deposit.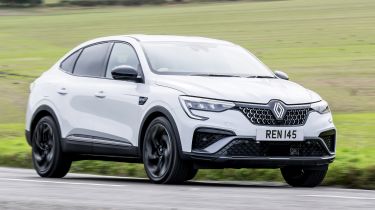 0% APR
Efficient hybrid powertrain
2 years' free servicing if you order this weekend
Renault has a history of not playing things exactly by the book when it comes to its finance offers and this £44-per-month PCP (Personal Contract Purchase) package on the Arkana coupe SUV is no exception. The monthly payments might be ludicrously low but you do need to stump-up a deposit of nearly £9,500 to access them.
For buyers who do have access to that kind of deposit, this could be a highly cost-effective way into a new Renault and that's why it's our Deal of the Day. It's 0% APR so you're avoiding interest charges and Renault is even offering two years of free servicing if you order before November 20, which is Monday.
The deal maps out as follows. You pay the £9,448 deposit, then 25 monthly payments of £44, which might well be cheaper than your phone contract. After that there's an optional final payment of £16,499 that you can either pay to own the car outright or walk away, potentially using any equity left in the deal as a deposit on another car. Because it's 0% APR, the total of all that is the £26,995 list price of a Renault Arkana E-Tech hybrid in Evolution trim, you don't pay a penny more. 
Even with that king-sized deposit, it's a good way of keeping your monthly outgoings down and possibly a viable way to get into a new car instead of the £10,000 used car you might have been considering.
The Arkana itself is a mixed bag. We really like the sleeker coupe-SUV looks with the roofline that drops away to the tailgate. It's also impressively efficient with that 1.6-litre full hybrid system returning 60mpg on the official tests and 48mpg in our real world testing. There's a lot of room inside too, certainly enough for a family of four.
On the downside, the engine isn't particularly refined and the noise levels in the cabin may take a bit of getting used to. We also found the interior quality less impressive that you get in Renault's latest offerings like the Megane E-Tech - the design and materials could be better. 
As far as the Evolution trim models we're looking at here go, there's 17" alloy wheels, parking sensors, a rear view camera and a touchscreen infotainment system that combines a 7" central display with a 7" digital instrument cluster. There's also a very similar deal on the plusher Techno trim level where you pay £48 a month with a £10,148 deposit to get bigger alloy wheels, the bigger 9.3" touchscreen and a 10" drivers display, among other things.
As usual, all our Deal of the Day offers are subject to availability and change. Our experts watch the market and pick out the best deals on cars we're happy to recommend.
You can get the Renault Arkana deal direct from Renault here or take a look at yesterday's Deal of the Day…