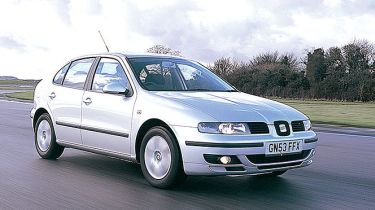 Overall Average Rating - 82.64%Position in the Top 100 cars - 70th
Ratings
Position in the Top 100 carsReliability: 72ndBuild Quality: 66thRunning Costs: 52ndPerformance: 21stBraking: 65thRide Quality: 88thHandling: 54thPracticality: 57thComfort: 87thEase of Driving: 79th
Your Quotes
"I've found it a reasonable quality, practical mid-size car. The Leon has cheap running costs and a decent amount of low-down grunt."
Mr Richard Coker - West Midlands
"Excellent value for money. Great to drive plus good performance, matched with excellent fuel economy. Some build quality issues (SEAT Leons leak!) but not enough to put me off."
Mr Paul Kirk - County Antrim
"Excellent reliability best VW Group car I have owned - air Conditioning and remote central locking key only faults in 94000 miles."
Mr Brian Rampling - Northants
"Bought more as a toy than a practicle car I find it a joy to play with."
Mr James Auld - Kilwinning
"Excellent car but niggling problems with ignition coil failures."
Mr Andrew MacDonald - Bury St Edmunds
"Well built, reliable and handles well."
Mr Adrian Hassell - Worcs.
"Functional, good performance, slightly cramped position for taller drivers, generally reliable but let down by poor gearbox. Overall , would recommend to anyone.
Mr Dean Hill - Hampshire
"Lived to the expectations when purchasing with good levels of performance and overall build quality."
Paul Thain - Essex
Manufacturer Verdict (Position - 19th)
Mid-table mediocrity –– it''s hardly what SEAT bosses had been hoping for. Last year, the firm slipped three places down the chart, but we were looking on the bright side, expecting a rise in 2007 following the arrival of a raft of new models. Instead the VW-owned marque has dropped another two rungs. With sub-standard ratings across the board, you are finding SEAT ownership a bit underwhelming.