Skoda Citigo vs Fiat Panda
The new five-door version of the Skoda Citigo faces the Fiat Panda in a duel of the fun city cars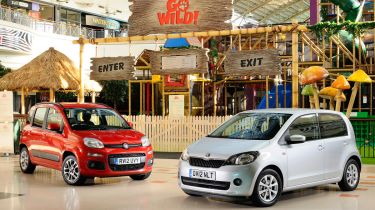 Buyers of fun city cars have never had it so good. The latest pint-sized runarounds can turn a shopping trip into an action-packed adventure – and the newest arrival to the ranks is no exception.
As our reigning Car of the Year, the Skoda Citigo needs little introduction. But now there's a new five-door version that adds an extra dose of practicality to the standard car's brilliant mix of excellent value, top-notch quality, driving engagement and refinement.
We tested the top-of-the-range £10,390 Elegance GreenTech, which has all the kit you'll need, plus fuel-saving stop-start and sub-100g/km CO2 emissions.
Yet the cheeky Fiat Panda also mixes fun and versatility in equal measure. It's one of our favourite baby hatchbacks, particularly fitted with the sparkling TwinAir engine. In range-topping £11,250 Lounge trim, it's more expensive than the Skoda, but its blend of performance and style makes it a serious contender.
So which of our dinky duo best balances fun with value for money?
Verdict
The Skoda Citigo entered this contest with an unbeaten record. So does the new five-door version continue the car's run of success? In a word, yes.
By adding an extra pair of doors, Skoda has made its entry-level model even more desirable. For young families on a budget, the Citigo is now a sensible alternative to more expensive superminis. Better still, downsizing to it doesn't feel like a backward step, because its quality, refinement and long list of kit make it feel like a much more upmarket model.
Don't discount the Panda, though. Yes, it's more expensive to buy and has a greater thirst for fuel than the Skoda, but its two-cylinder engine is an engineering masterpiece and delivers a turn of speed and distinctive soundtrack that never fails to raise a smile. The Fiat also boasts more stylish looks, a distinctively styled interior and the same sub-100g/km CO2 emissions.
But there's no escaping the fact that it doesn't feel quite as composed and quiet as the Skoda when you don't want to have fun, while it comes with much less standard kit. Heavier depreciation and a less versatile cabin seal its fate here.
In the end, the Skoda's brilliance is hard to ignore and the addition of a five-door layout only boosts its appeal further. The best has just got better.