Skoda Citigo-e iV vs Volkswagen e-up!
Skoda is returning to the city car class with the new all-electric Citigo-e. Is it a better buy than the similar Volkswagen e-up!?
It wasn't so long ago that the most eco-focused city cars came with 1.0-litre engines that sipped fuel at a miserly rate to keep your pockets well lined when it came to the cost of motoring. That's not quite the case any more.
Showing the pace of change in the industry, the most efficient city cars are now fully electric. And while the Renault Zoe has had this sector of the market sewn up for quite some time now, there are many more entries coming to try and strip it of its crown.
All-new electric cars such as the Honda e will hit the market soon, but the pairing we've got here are interesting, because they've been adapted from existing models that conformed to the city car norm mentioned above: the Volkswagen e-up! and Skoda Citigo-e iV.
Both use the same chassis, battery and electric motor combination, and given the complexity of the tech involved, both will seem surprisingly pricey if you're used to the old-school £10,000 city car recipe. But times are changing, and this is the future of urban motoring. So what does it look like?
Skoda Citigo-e iV
| | |
| --- | --- |
| Model: | Skoda Citigo-e iV SE L |
| Price:  | £19,315 |
| Power:  | Electric motor, 81bhp |
| 0-30mph:  | 3.5 seconds |
| Test economy/range: |  3.7m/kWh/120 miles |
| Claimed range:  | 170 miles |
| Annual road tax:  | £0 |
After a brief hiatus, the Skoda Citigo returns in all-electric e iV guise. It comes in two versions, and it's the more expensive, better-equipped SE L model we're testing here, although it still costs £380 less than the Volkswagen e-up!, at £19,315.
Design & engineering
Like the original Citigo, the Citigo-e iV uses the same platform and powertrain as the e-up!. And like the VW, it only comes in the more practical five-door bodystyle.
There's a 36.8kWh battery, of which 32.3kWh is usable, while the electric motor is rated at 81bhp. However, there are a few differences in the two cars' specs, because Skoda quotes slightly more torque, at 212Nm. It's not a big difference, and the cars have the same 1,235kg kerbweight. Yet on the WLTP test cycle, Skoda claims a maximum range of 170 miles on a full charge, compared with 159 miles for the VW.
SE L trim features 40kW DC rapid charging as standard through the CCS port, like the VW. It also features the same 7.2kW on-board AC charger.
Skoda's 'iV' name tag signifies its plug-in and fully electric models, and the Citigo-e is Skoda's first full EV. It'll launch the Enyaq SUV soon, but for now this is the only non-combustion-engined Skoda.
It feels just as well built and premium inside as the VW. This is relative, but still good for a city car. The materials are nice, and given the two cars share many mechanical components and are a similar size, the Citigo-e feels spacious.
There are some spec differences, but generally SE L trim features a similar level of kit to the e-up!, including nav through your smartphone and the Skoda Connect app, a 6.5-inch colour screen, parking sensors, climate control and DAB.
However, parking sensors are standard here and not a reversing camera – whereas the VW gets both – while the Citigo also includes heated seats.
Driving
Both of these cars are effortless to drive. Simply select D in the Skoda, and that 212Nm of torque means that around town the Citigo-e feels quick and eager. As on its VW cousin, the ride is fine, with the extra weight helping to damp out some of the lumpiness that the petrol model was occasionally subject to.
Partnership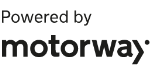 Need to sell your car?
Find your best offer from over 5,000+ dealers. It's that easy.
Out of town the acceleration tails off, but you can see from our performance figures on page 83 that the Skoda was just as swift as the VW in our low-speed acceleration tests. A 0-30mph time of 3.5 seconds and 30-50mph time of 4.1 seconds show that performance is extremely similar. It's the torque that makes the iV so easy to drive, because it gives a lot of performance in a relatively small, light car.
Dynamically, these two city cars feel alike. The steering weight and response in the Skoda are just as good as the VW's, and there's a similar level of grip, as you'd expect from cars with the same underpinnings.
There are Normal, Eco and Eco+ driving modes that adjust throttle response and climate control in a similar way to those in the VW, while the regenerative braking set-up is well calibrated. It quickly becomes natural to drive just using the throttle, and it's this, combined with the refinement, that makes these electric city cars appealing. They're less at home on the motorway, where they are cruising at close to their top speeds and draining range quickly. But on A-roads and in town, mechanical refinement is good; they're both quiet and there's not much wind noise.
Practicality
The Citigo-e iV offers just as much luggage space as the e-up!, at 250 litres with the rear seats up and 923 litres with the backrests folded. That's plenty for a small car such as this, and identical to the VW. The same goes for rear legroom; access is equally good and it's just as spacious.
Unsurprisingly, with the same battery and motor set-up, the Skoda's recharge times are identical to the VW's. Going for the SE model will save you £2,360, but you'll want to add CCS DC charging back in, at £720. Otherwise you lose this extra level of flexibility.
Type 2 and Mode 3 cables (AC and three-pin) come as standard and are six metres long, so should allow for decent flexibility for charging – although many owners are likely to have a wallbox at home.
Inside, storage is the same as was found in the old petrol Citigo. There are long doorbins, a couple of trays in the centre console – one that doubles as a cup-holder with a handy clip – and a ledge for other items.
Ownership
Skoda usually performs well with owners, and our most recent Driver Power study proved no different, because the Czech brand outranked VW, taking fifth place overall, compared with 17th for the parent firm.
When the Citigo was retested by Euro NCAP – along with the up! and the updated SEAT Mii – it only received a three-star Euro NCAP result. Autonomous braking has been dropped, which is the same situation with the VW, whereas lane assist is included; the e-up! features this tech too.
Running costs
Based on a home electricity price of 13p per kWh, the Skoda will cost £4.78 to charge. So with the average efficiency we recorded – 3.7 miles/kWh – it'll cost you around 4p per mile. Given the VW's battery is the same capacity, it'll cost the same to charge. It returned an identical 3.7 miles/kWh, so the e-up!'s cost per mile is the same. Based on these numbers, the Skoda and VW should offer real-world ranges of 120 miles.
According to our experts, the Skoda will retain more value, at 38.3 per cent compared with 37.7 per cent for the VW. This works out at depreciation of £11,927 and £12,266 respectively.
Testers' notes: "If you're thinking of buying an EV, it's worth checking the energy tariff you're on. If you can charge off-peak, look at the cost per kWh; this is equivalent to filling with fuel, and can really affect your running costs."
Volkswagen e-up!
| | |
| --- | --- |
| Model: | Volkswagen e-up! |
| Price:  | £19,695 |
| Power:  | Electric motor, 81bhp |
| 0-30mph:  | 3.5 seconds |
| Test economy/range: |  3.7m/kWh/120 miles |
| Claimed range:  | 159 miles   |
| Annual road tax:  | £0 |
An electrified Volkswagen up! is nothing new, because the first version was unveiled in 2013. But as the market has changed and electric propulsion has become more appealing – especially in the city car sector – there's a new model on sale. As before, it only comes as a five-door, and it starts from £19,695 after the £3,500 Government's Plug-in Car Grant.
Design & engineering
Electric cars are all about battery capacity and range. The original e-up! only offered an 18.7kWh battery, whereas the new car boasts 36.8kWh (with 32.3kWh of usable energy) for a claimed range of 159 miles.
Unlike the upcoming ID.3, which is based on the VW Group's EV-exclusive MEB platform, the e-up! is still adapted from the underpinnings used by the petrol-powered model. The battery is located under the floor and rear seats, and sends its 81bhp to a motor mounted on the front axle. Because it's been adapted from VW's existing architecture, the suspension set-up is pretty conventional, with MacPherson struts at the front and a beam rear axle.
The e-up! is a trim level in the up! range, so there's only one equipment spec. It gets the same level of kit as the regular, base-spec up!, which means a five-inch colour screen, Bluetooth and USB connectivity are included, but this electric version adds climate control, a heated windscreen, cruise control and a rear camera.
One positive of being based on the standard up! is that build quality is good and the cabin has a mature feel. Admittedly, the plastics are on the firm side, but they feel solid, the exposed painted metal adds some personality to the package and the driving position is nice. The up! feels spacious for a small car.
Driving
At 1,235kg, the electrified up! weighs around 250kg more than the petrol model, and you can sense this, because the car doesn't feel quite as nimble. However, it's still not exactly heavy, and the extra mass actually helps to alleviate some of the occasional bouncing and bumping you get from the petrol car.
The steering is good, with plenty of precision even if there's less grip on offer than in the regular car – another consequence of that added weight – but there's plenty for a city car and the e-up! feels stable.
It also feels fast, because the instant power delivery whisks the car forward calmly. That's thanks to its 210Nm of torque being a lot for a small car, and the single-speed automatic gearbox makes acceleration easy.
Torque does tail off above 50mph or so and the car's top speed is only 81mph, but that's not where the e-up! is at its best. Our performance tests showed that the VW took 3.5 seconds to accelerate from 0-30mph, and 4.1 seconds to go from 30-50mph, which unsurprisingly was identical to the Skoda, and both cars feel strong at these speeds. As city cars, this is the range where both will operate most frequently.
The regenerative braking is good, with modes that ramp up the level of stopping power when you lift off the accelerator, while topping the battery up with energy when slowing down to improve range. In the most aggressive mode, driving around town with one pedal, just modulating the throttle to speed up and slow down, is easy, which makes it relaxing.
Practicality
What's of more importance to most buyers is how quickly the e-up! charges. DC rapid charging is included, as it is on the Citigo-e SE L – go for the SE model, and you'll have to add the Combined Charging System for £720.
The VW can accept a maximum of 40kW charging, which will top up the battery from 10 to 80 per cent capacity in just under 50 minutes.
There's a 7.2kW AC charger built in as well, so hooked up to a home wallbox or a public charging post with a Type 2 cable (included as standard, along with a three-pin plug), it'll take roughly five and a half hours, so not an issue for plugging in overnight.
Use the three-pin plug, and expect a recharge time of 16 hours 45 minutes, so it's more for an emergency rather than being a regular charging solution.
The e-up! only loses one litre of boot space compared with the petrol car, at 250 litres, which is the same as the Citigo-e iV. And with a five-door body, access to the rear is quite easy for a small car.
Once you're sat back there it's surprisingly roomy, which shows just how right VW got the car's packaging back when it was launched in 2012. Even as an EV adapted from this platform, the e-up! still feels spacious and will seat four adults relatively easily for short to medium-length trips.
Ownership
VW dropped autonomous braking from the revised up!, which is part of the reason why it only earned a three-star safety rating when Euro NCAP retested it last year.
However, when it comes to ownership, it'll be peace of mind to know that, while the car is covered by a three-year/60,000-mile warranty, the high-voltage battery is covered by an eight-year/99,360-mile (160,000km) warranty.
Running costs
Owners buy EVs to save money, and we've already seen how cost-effective they are when it comes to energy use.
Zero road tax is a big bonus, as is cheap insurance, but its company car tax where these two really succeed, thanks to zero emissions. They fall into the lowest 16 per cent Benefit-in-Kind tax bracket, and because the Skoda is the cheaper car, it'll only cost lower-rate taxpayers £728 a year. However, the VW will cost the same user only £12 a year more.
Testers' notes: "The charging port is located on the rear right wing, so bear this in mind if you're getting a home charging point installed. But then, the up! is so compact, most cables should have enough length to reach."
Verdict
First place: Skoda Citigo-e iV
Electric cars are all about running costs, and while there's very little in it, the Skoda edges the VW when it comes to value. It's slightly cheaper and will be much more cost-effective to buy through PCP finance or a lease deal, while it'll be just as cheap to run. It offers a similar level of practicality but gets a bit more kit, is slightly cheaper as a company car and resists depreciation better if you're a private buyer.
Second place: Volkswagen e-up!
The e-up! is a little bit more stylish than the Citigo-e iV, but look at what really counts in a small EV – price and running costs – and the VW just lags slightly behind the Skoda. However, in every other area it's just as good, with zippy around-town performance and relatively agile handling mixed with decent ride comfort and refinement. It scores four stars too, which shows how close these cars are.
Other options for similar money...
SEAT Mii Electric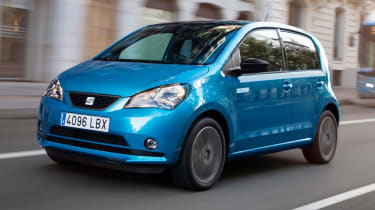 On sale: Now 
Price: £19,300
Engine: 1 x e-motor, 81bhp
As with the combustion-engined versions of these city cars, SEAT also offers an electric Mii. It's a similar price, has the same charging options and is just as practical, so choosing one is down to personal preference.
Figures
| | | |
| --- | --- | --- |
|   | Skoda Citigo-e iV SE L | Volkswagen e-up! |
| On the road price/total as tested | £19,315/£20,080 | £19,695/£20,245 |
| Residual value (after 3yrs/36,000) | £7,388/38.3% | £7,429/37.7% |
| Depreciation | £11,927 | £12,266 |
| Annual tax liability std/higher rate | £728/£1,457 | £740/£1,481 |
| Annual elec. cost (12k/20k miles) | £422/£703 | £422/£703 |
| Ins. group/quote/road tax cost | 11/£490//£0 | 10/£423/£0 |
| Servicing costs | £312 (2 services) | £361 (2 services) |
|   |   |   |
| Length/wheelbase | 3,597/2,422mm | 3,600/2,407mm |
| Height/width | 1,481/1,645mm | 1,463/1,641mm |
| Powertrain | 1 motor/li-ion battery | 1 motor/li-ion battery |
| Peak power/revs | 81/2,800 bhp/rpm | 81/2,800 bhp/rpm |
| Peak torque/revs | 212/2,800 Nm/rpm | 210/2,800 Nm/rpm |
| Transmission | Single-spd auto/fwd | Single-spd auto/fwd |
| Battery capacity/usable | 36.8/32.3kWh | 36.8/32.3kWh |
| Boot capacity (seats up/down) | 250/923 litres | 250/923 litres |
| Kerbweight | 1,235kg | 1,235kg |
| Turning circle/drag coefficient | 9.8 metres/TBC | 9.8 metres/0.32Cd |
| Basic warranty/recovery | 3yrs (60,000)/1yr | 3yrs (60,000)/1yr |
| Driver Power manufacturer/dealer pos | 5th/10th | 17th/22nd |
| NCAP: Adult/child/ped./assist/stars | 81/83/46/55/3 ('19) | 81/83/46/55/3 ('19) |
|   |   |   |
| 0-30/0-60mph | 3.5/10.7 secs | 3.5/10.8 secs |
| 30-50mph | 4.1 secs | 4.1 secs |
| 50-70mph | 7.8 secs | 7.7 secs |
| Top speed | 81mph | 81mph |
| Braking 70-0/60-0/30-0mph | 56.3/36.1/9.3m | 56.2/35.7/9.1m |
| Test econ (miles/kWh)/predicted range | 3.7/120 miles | 3.7/120 miles |
| Claimed range (WLTP) | 170 miles | 159 miles |
| Charging capability | 2.3/7.4/40kW | 2.3/7.4/40kW |
| Charging time | 16h45m/5h30m/48m | 16h45m/5h30m/48m |
| Actual/claimed CO2/tax bracket | 0/0g/km/16% | 0/0g/km/16% |
|   |   |   |
| Airbags/Isofix/park sensors/camera | Six/yes/yes/no | Six/yes/yes/yes |
| Auto/lane keep/blind spot/AEB | Yes/yes/no/no | Yes/no/no/no |
| Climate ctrl/cruise/leather/heat seats | Yes/£140/no/yes | Yes/yes/no/£350* |
| Met paint/LEDs/keyless/pwr tailgate | £540/no/no/no | £550/no/no/no |
| Sat-nav/digi dash/DAB/apps | App/no/yes/no | App/no/yes/no |
| Wireless/CarPlay/Android Auto | No/no/no | No/no/no |