The Skoda Kamiq in numbers
Some of the numbers involved in the Skoda Kamiq's production are mind-boggling; we take a closer look at the headline figures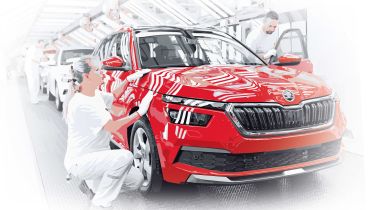 There are some big numbers involved in the Skoda Kamiq, and we're not just talking sales figures. Our statistics reveal everything you need to know about the Kamiq, from the number of staff employed at the Mlada Boleslav factory to the length of the assembly line and the number of countries that the Kamiq will be delivered to by the end of the year.
Scroll down below to take a closer look at the Skoda Kamiq in numbers…
33 days
It took barely one month to remove the Skoda Rapid production line in Mlada Boleslav and get the factory ready to start making the Kamiq. The Rapid is no longer sold in Europe, but many parts of the production line that were specific to this model – the stamping presses, for example – were crated up and shipped to other sites that will continue to build the hatchback, including a facility in Russia. 
25,600
The total number of staff employed by Skoda in Mlada Boleslav. This includes manufacturing but also development, engineering, data and administration.
165 minutes
The amount of time it takes a painted but otherwise-bare Kamiq bodyshell to go down the assembly line and be transformed into a complete car for a customer.
€100,000,000
Skoda invested about £86m to get Mlada Boleslav ready to manufacture the Kamiq. 
800 metres
The total length of the Kamiq assembly line, which is roughly similar to eight international-spec football pitches.
312
The number of different specifications of Kamiq that exist at the car's launch according to colours, trim levels, and engine and gearbox combinations. Factor in the options and equipment packs that allow you to personalise your car, and the total number of possible variations "runs into millions".
200
How many Kamiqs the manufacturing site is producing every day. However, the facility is still ramping up, so this figure will increase.
33
The number of countries where the Kamiq will be delivered to customers by the end of 2019. The current line-up is the Czech Republic, the UK, Slovakia, Poland, Hungary, Slovenia, Croatia, Romania, Bulgaria, Bosnia, Serbia, Lithuania, Latvia, Estonia, Ireland, Sweden, Norway, Finland, Germany, Austria, Switzerland, Denmark, Iceland, Italy, France, Holland, Belgium, Luxembourg, Spain, Canary Islands, Cyprus, Greece and Portugal. More will follow in 2020.
Click below for more on the new Skoda Kamiq…
• Skoda Kamiq: in numbers