Toyota Aygo automatic 2014 review
Toyota's new 2014 Aygo arrives in a congested city car market with the bold looks and nimble handling and a new 'x-shift' automatic gearbox
Toyota's Aygo has succeeded in stealing the headlines from its Peugeot 108 and Citroen C1 sister cars with its dramatic design and clever personalisation options, and it's impressive from behind the wheel, too. Although the mechanical package isn't very different from its predecessor, refinement has taken a big step up without losing any of its old playful character – and its loaded with enough technology to keep up with the class leaders. The only question mark is whether the price will be right.
You wait for one new city car to arrive, and then three come along at once. Like its predecessor, the new Toyota Aygo has been jointly developed with the Peugeot 108 and Citroen C1, but of the trio it's Toyota that's taken the most radical approach.
Its designers have emblazoned the front of the Aygo with an 'X' stretching from the A-pillar to the fog lights via the trapezoid headlights, badge and front grille. At the rear a blacked-out tailgate and coloured lower bumper break up the design even further.
It means buyers can customise the colour of the 'X', front bumper, rear bumper and alloys – either when they order the car or as a dealer retro fit. On the inside, the instrument panel, centre console, air vents and gear lever surround can also be swapped around.
Overall length has increased by 25mm to 3,455mm, with the same 2,340mm wheelbase, while both front and rear tracks are 8mm wider. Overall height has reduced by 5mm, but there's actually an extra 7mm of front headroom, thanks to a 'double-bubble' roof and seats mounted 10mm lower. Boot space has grown by 29-litres to 168-litres, too, with a much wider opening.
Toyota Aygo: interior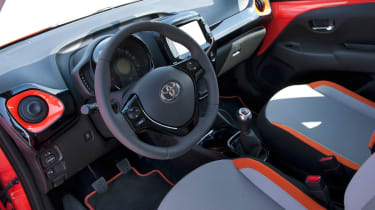 Inside, there's plenty of space up front and excellent visibility thanks to slimmer A-pillars, while a height-adjustable driver's seat and steering wheel make getting comfortable quick and easy. Two cup holders and good-sized door bins are handy additions, but things are less comfortable in the rear. Two adults can squeeze in back there, but you'll struggle to fit one six-footer behind another.
Interior quality has improved, but it still can't match the VW up!. Blocks of bold colour break up the scratchy plastics meaning it looks great, but feels cheap in places. Go for the optional seven-inch 'x-touch' system though, which offers a simple touchscreen user interface for audio, phone and vehicle functions, and it has all the technology you could need.
Toyota Aygo: engine
Powertrain options couldn't be simpler – the only engine is a 68bhp 1.0 VVT-i three-cylinder. Essentially the same unit as its predecessor, it's been tweaked for an improvement in economy of 3.3mpg to 69mpg with CO2 emissions of 95g/km. That's if you stick with the standard five-speed manual gearbox, go for the x-shift automated manual and that falls to 67.3mpg and 97g/km.
Fortunately it's lost none of its old feisty character – it never feels quick, but plant your right foot and it fills the cabin with a thrumming three-cylinder crescendo. And you'll be hearing a lot of it because this engine needs to be revved to produce its best – partly because of its lack of torque, but partly because of the long gear ratios in the five-speed manual box. Chase the redline and you can hit 75mph in second gear.
Toyota Aygo: x-shift automatic
We also had a chance to drive the five-speed 'x-shift' automated manual, which actually felt sportier than the manual. Shorter first and second gears improve pick-up out of corners, while manual downshifts are accompanied by a flamboyant blip. You'll still need to lift off during up shifts, but that's something you learn pretty quickly.
The biggest stride forward for the new Aygo though is its refinement. While the engine note comes through loud and clear, extra sound deadening reduces road and wind noise significantly. A conversation with your passengers is easily possible at 70mph, without raising your voice.
Ride comfort is impressive, too, but given the amount of body lean in corners it's to be expected. The steering is 14 per cent sharper, so makes darting in and out of traffic that little bit easier, and the Aygo always feels light on its feet and keen to react.
Ultimately in this class it's prices that matter, and we'll have to wait until the summer for the UK list price. We're assuming a small price hike over its predecessor though, which starts at £8,595, so an entry-level price of around £9,000 seems likely. With the VW up! starting at £8,265, the Hyundai i10 at £8,345 and Vauxhall reported to be readying a £7,000 city car, it could be enough to put budget-conscious customers off.