Vauxhall VXR brand to live on with help from hybrid tech
Vauxhall's VXR performance car brand is not dead and there are plans for an electrified resurrection in future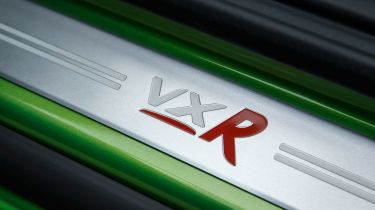 The Vauxhall VXR name looks set to live on after a hiatus, with a company spokesman indicating that hybrid technology could allow the British performance sub-brand to continue in the future.
VXR models are no longer sold in the UK; until recently, the Vauxhall website had been offering details on the Corsa VXR and the Holden-sourced VXR8 super-saloon, but now the manufacturer just points enthusiasts towards pages on 'past VXR models'. Instead, Vauxhall's first performance-oriented models under its new owner, PSA, have been badged GSi and pitched as more sophisticated offerings than the hardcore VXRs of old.
• New sporty Vauxhall Corsa GSi uncovered
Vauxhall recently confirmed that a Corsa GSi would enter showrooms later this year - and accompanying that announcement, an insider suggested to Auto Express that VXR could yet have a future. Now a spokesman has told our sister site CarBuyer: "VXR will survive. We haven't lost this sporting brand and it will remain at the forefront of performance motoring in the mainstream. VXR products will always be a hardcore offering, with a jump in performance [over GSi] as well as very focused dynamics."
The spokesman also suggested that electrification could play a part in future VXR products, saying: "It'll need more efficient power sources."
Despite the statements, it's less clear how VXR will be brought back to life after its current hiatus. The next Corsa, due in 2019, is being developed on the PSA Group's CMP platform - the same chassis technology that will underpin the next Peugeot 208 and DS 3. CMP is not being engineered for hybrid powertrains - only conventional combustion engines or, in e-CMP form, pure electrification.
The most likely option, therefore, could be a hot hybrid version of the next Astra. That car will move across onto the PSA Group's larger EMP2 architecture, which does support electrification. Even if this is the chosen path back for VXR, though, nothing's going to happen quickly, because the Astra will be one of the last Vauxhall models to move across onto PSA technology.
The link to Peugeot - and, in particular, Peugeot Sport - could be crucial for VXR's future. If the French brand continues to develop faster, hotter versions of its 208 and 308, then sharing engines and chassis tech with VXR could help both divisions to cut down development costs and increase economies of scale. This would then have the potential to boost the performance models' profitability - the key watchword of PSA chief Carlos Tavares.
These are the best hot hatchbacks on sale in 2018…