Van of the Year 2019: Vauxhall Combo Cargo
The Vauxhall Combo Cargo is the 2019 Auto Express Van of the Year, with the Citroen Berlingo Van and Peugeot Partner commended
With the switch to PSA Group ownership, Vauxhall has revolutionised its commercial vehicle line-up. It started with the Combo Cargo, which is now a front-runner in the small-van class, and our Van of the year for 2019.
Vauxhall has tapped into PSA's decades of small-van experience to produce a vehicle that delivers excellent payload weights and cargo volume combined with cutting-edge technology, first-class safety credentials and a range of fuel-efficient engines. It shares these values with the Citroen Berlingo and Peugeot Partner, but with Vauxhall offering tempting finance deals, such as six years' zero per cent APR finance and the 4x4x4x4 package (which bundles finance, servicing, warranty and breakdown cover together in a four-year deal), it narrowly edged ahead of its siblings here.
The Combo Cargo offers a payload of up to a tonne, making it viable for some van users to downsize and reduce costs, while L1 and L2 body lengths offer respective load volumes of 3.3 and 3.9 cubic metres. If you add the clever FlexCargo through-loading option, you get an additional half a cubic metre of space. It doesn't sound like much, but open the hatch in the bulkhead, fold down the twin passenger seat, and you can carry items up to 2.1 metres in length. And with the standard vinyl bag for loads to slide into, your cabin doesn't get scuffed, either.
Vauxhall's 1.5 Turbo D diesel comes in three power outputs up to 128bhp, and all three motors deliver decent economy. Combine this with running gear sourced from the PSA Group's car range, and the Combo Cargo is a competent performer.
It also means that there's a suite of safety kit that's designed to make life easier. Luxuries such as adaptive cruise control, lane assist and city braking are all on offer, while a permanent rear-view camera is also available. In addition, a secondary rear-facing camera, which is mounted in the nearside wing mirror, eliminates the dangerous blind spot that's a common complaint in vans such as this. Add this all together, and the Combo Cargo is a fine choice for business users wanting a great all-round performer.
Our choice
Vauxhall Combo Cargo 2000 1.5 Turbo D 130 Sportive L1 (£19,803)
There's such a wide variety of Combo Cargo variants on offer that there should be a van to suit every business need. The 128bhp 1.5 Turbo D will make light work of any load you might have on board, and it'll deliver better fuel economy than the less powerful engines, too. The standard L1 body offers plenty of space inside, while mid-spec Sportive trim comes with decent kit, as well as the ability to add a few choice options.
Commended
Citroen Berlingo Van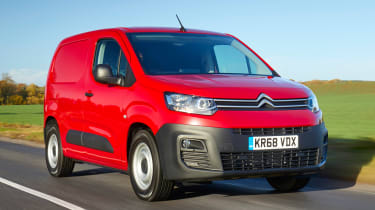 Because it's so closely related to the Combo Cargo, it's no surprise that the Berlingo has earned a commendation this year. There is the same range of options, as well as the improved payload weights, and the driving experience means that the French van is light years ahead of its predecessor.
Peugeot Partner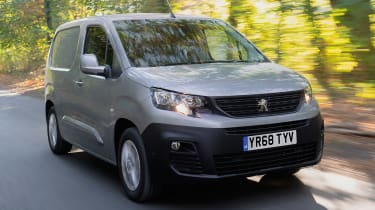 This is the third member of PSA's small-van line-up, so of course the Partner gets our second commendation this year. Its chunky shape, which is shared with the Rifter MPV, offers a different look for buyers, yet underneath there are all the same engine and tech choices you'll find in the other vans.